March to December 2020:
Now this is a new heading to submit copy under but then we live in different times. The way our living circumstances were peremptorily altered and people scared witless by an unseen virus that has altered a lot of things we do. Well, for the moment anyway. There is a need though for people, let alone their leaders to have a phlegmatic disregard for mindless panic and carry on. Any glider pilot encountering turbulence, stalling or dropping into a spin would be in serious trouble if resorting to blind panic instead of taking action appropriate to the situation he/she is presented with.
We all found ourselves having weekends without an option of going gliding for the day let alone no worries about being late for work! March flying days were suddenly truncated and the aircraft hangared.
May 16th:
Things resumed in a tentave way, no dual flights. Two local flights for WZ, TE and the private owners.
May 23rd:
Four flights for NN. One trial flight, one instruction and two check flights.
June 14th: Four instructional flights by WZ. NN did two and a local flight for a private owner and a new member (yes we have some from to time) David Catt. Welcome David.
And that was that for a while. Gliders were de-rigged in readiness for the visit of Mike Strathern to carry out annual inspections and any required maintenance.
June through July:
Mike came -Mike est; Mike inspected -Mike exta consultuit; Mike repaired - Mike aedifi caverunt; - Mike signed off - Mike probatus. After a check flight by Mike, John Carter's ASW15 was cleared and John happily had his first flight and will be the first of many more to come.
Flying got underway in August and has continued regularly since then.
August: All the ab initio pilots continued their training, inluding a full muster of the Finer family. Good to see the strength of their contribution to the club.
September: Only one day in September which included a X-country by Les Sharp from the mountain-Lake Rotokare and back home.
October: A sortie to the Matamata X-country course in late October by several members - instructor John Tullett flying and instructing with the Janus NN; John Carter with his ASW 15; Dennis Green with the Club PW5 and Glyn Jackson towing with our Eurofox towplane TGC. A good time had by all.
November: Two days only. On the 22nd a X-country for Peter Cook flying Stfd-Toko-Ratapiko-Toko-Stfd. A X-country for John Carter & Les Sharp took Clinton Steele for his BFR. Two flights only on the 28th with X-country flights for Les Sharp and Tim Hardwick-Smith.
And so to December. A change to the hierarchy with Tim Hardwick-Smith leaving his CFI role and Glyn Jackson handing the Club Captaincy to Tim. A hearty vote of thanks to Tim who has been the CFI since 2000. Initially through a difficult time and now with we have a core of experienced pilots now flying and with good aircraft available. As Club Captain, Glyn has been a fund raiser par excellence and an enthusiastic promoter of club flying. Not to forget in the Club oobtaing a new Eurofox towplane that is working so economically for us. Instruction flights on the 6th plus a X-country for John Tullett. On the 13th a number of instruction flights for the Finer ensemble plus Julie Langford and David Catt. A BFR for Peter Williams, a long local flight for Clinton Steele and X-country flights for Les Sharp and John Carter. The 20th was a good day, better than expected with five X-country flights by the private owners and instruction flights for David Catt and Julie Langford. Dennis Green must have launched too early for he missed out on the better stuff. Peter Cook instructing once again. Jim Finer on towing duties.
Though there may be another day or two to come for this year, I thought I'd better finish bashing this out and send it off. A very Merry Christmas and a Happy New Year to everyone. Let us hope that it does not become so short as this one. Stay safe.
Papa Mike.
Looking ahead to the summer............................
"Whats up Doc?"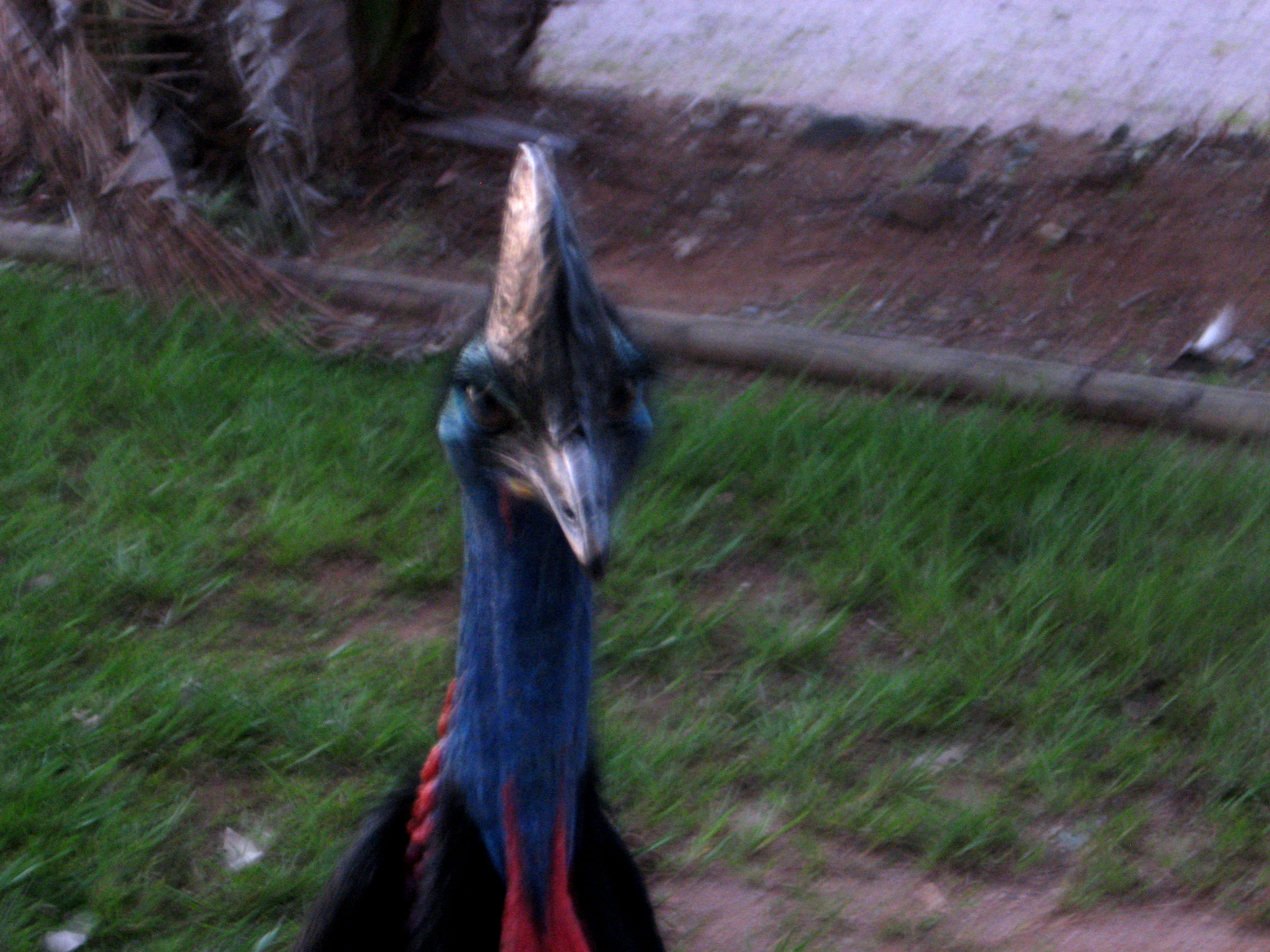 An inquisitive Cassowary caught looking
through a Cairns window a year or so ago. Photo by David Bolton.