:Once in a Blue-Blood Moon.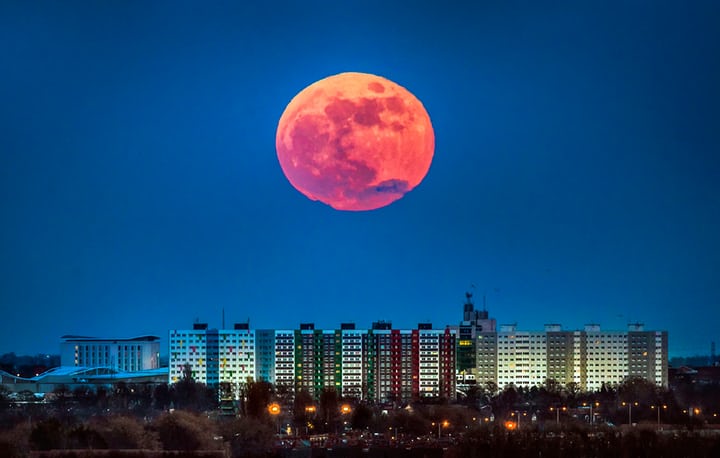 Not that we're into Moon Flights but a different photo for a change. This picture from Hull, England. Original from The Expres and Star website.
A couple of flights on Thursday the 15th for Les and Dennis. Les Sharp was off for a trundle in the Janus NN. And a short description of his flight sets the ball rolling:
Ralph towed me in NN out to the clouds at the south-eastern edge of the national park where I released at 4400' and found the sink. Managed a couple of climbs but couldn't find any particular pattern to the lift, so as I got lower I tracked back over Stratford township where the railway yard was producing some thermals. Managed one climb of 250' there but mostly it was too fragmented and gains were replaced by losses, until landing was inevitable. The consolation is that I have logged 48 minutes. The day didn't live up to the expectation generated from the RASP as it was yesterday evening.
Les then followed this up with a great flight on Sunday 18th and here once again is his account.
GVW was in its trailer in anticipation of a trip to Papawai, but lousy weather forecasts had put me off that venture.
On Sunday it was pulled out and rigged as the cloud around Mt Taranaki looked inviting. It was about 1330 when I launched and the rope was released just east of Eltham under the southern side of a convergence at 3500'. I soon gained 400' then minutes later lost it again. After another few minutes I got back to cloudbase and tried going east, but the lift got weak within a couple of kilometres, so west was the way to go. Having got to the western end near Kaponga, I tried to get enough height to go over the bush towards the mountain along the edge of some likely-looking clouds. That resulted in getting almost too low to make it back to Stratford and a serious look at landable paddocks. At least, I was able to view them using the criteria we were given on the cross-country course, although there wasn't any smoke visible in the relevant area to confirm wind direction (noted that there are several good looking paddocks to the south-east of Kaponga). I turned back along the convergence line an blundered into some lift, worked hard and was able to get back to better lift which was now on the northern side of the convergence line. Headed back towards Eltham until I met with the edge of a rain shower, and found that the lift was on the other side in that area but was also weaker and much rougher. I had encountered quite a bit of turbulence there at the beginning of the flight. Working back to the western end, the lift still ended before the National Park boundary, and at 4000' I wasn't keen to try and get to the cloud nearer the mountain and again it was weak.
After another run back east the line had moved north and from under the edge it looked close enough to the airfield to feel comfortable. I got high enough to get over the bushline above Pembroke Road and got a climb where the vario pointed vertically up for a while and was soon over 5000', so I ventured in and flew past the TV mast at Tahurangi, on past the North Egmont visitor centre then around the north side over the Ahukawakawa Swamp looking to see if it was worth attempting a circuit around the mountain, but there was no significant lift, then the vario pointed straight down for long enough for me to get out and back to Pembroke Road where the lift was just as good as before and got me to 5700' so I went north again. This time I flew around the face of the Pouakai Range until the Oudie was telling me I might not make it back to Stratford, so I turned around onto a fairly direct course back, and played with the airspeed to try and get back at circuit height. It wasn't long before I met with the north-westerly wind so I reduced speed and at one point the Oudie L/D reading indicated 80. The result was an arrival with plenty of height and a comfortable final leg onto 34 from about 800'. The flight was 2 hours 54 minutes, my longest in GVW. Thanks to the crew who had helped me rig, got me airborne, and helped get packed away. A great team.
(The Oudie is a very handy instrument that provides the pilot with much real-time information about thermal strength- or the lack of it- speed to fly, direction and various details as to height information including the vital one of height needed to get home. Ed.)
Thanks Les for your help in providing material for this newsletter. I'm glad that you are now able to enjoy good flying in your own aircraft of good performance. (Ed.)
Sunday 18th February belonged to Nathan Whittleston. Two check flights were enough to satisfy John Tullett who sent him solo. A task which he perforormed most creditably. Having been towed to 1000ft he did not have much option but to do a circuit and land. A task which he performed most creditably. Well done Nathan !! We look forward to you doing a lot more flying with us. Incidentally it was a 'first' solo for John Tullett too. Les Sharp vanished with his ASW20 for a tad under three hours ( 2:55) and John Tullett took Nathan's Dad - Carl - for a thirty minute flight.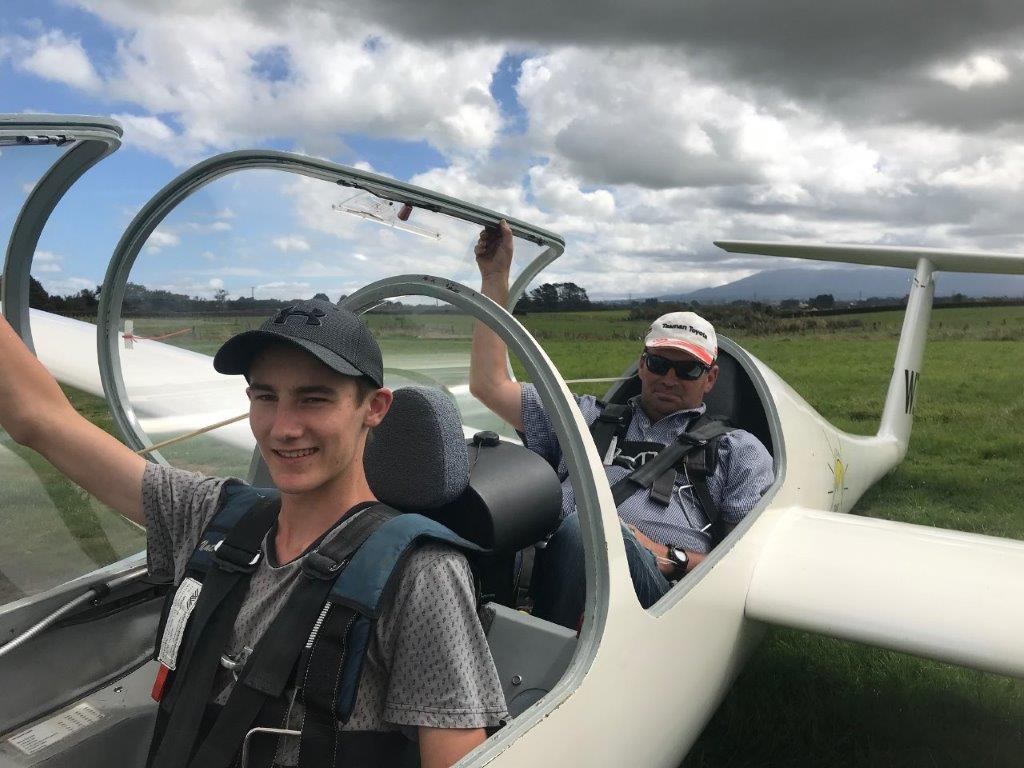 Nathan and Will, nearly ready for their flight on the 24th.
February 24th saw three flights for Liam Finer with Glyn Jackson back-seat. Dennis Green did 1hr 13m in in the PW5, John Tullett 2hr 56m in his K6, Will Hopkirk 1hr 23m in the Janus then followed that up with 30m in the Janus with Nathan Whittleston.
As far as I can tell, all the Youthglide people have joined up so our instructors are going to be rather busy for a while.
The WZ radio has not been a 'good' radio in that it has not been working well with some problem or other that has been hard to analyse and even harder to fix. A thump with a very large hammer might do wonders for decision making, though not for the radio!
So that is it. Had the copy all ready, didn't save it when I should have, so here it is before it goes AWOL again.
Papa Mike.