December 27th & 30th 2015.
The 27th was a so-so sort of day but useful none-the-less. Training flights for John Spence, Dougal Wickham and Dennis Green. Solo flights for Glyn and JT in their gliders and Mike Gibson came along for a gift voucher trial flight with John Tullett. I don't think that John had to do much, if any. We were very pleased to see(hear of) Mike back in action again. And at 27 minutes, they had the longest flight too.
Brett Emeny, flying from NP airport took the dust covers off his Stemne and enjoyed a bit of wave on the 26th and a rather blue sea breeze front north of Inglewood on the Sunday. A 51:1 glide ratio helping a bit too.
The 30th though was a better day for us. Only five flights but four were really good ones for the pilots concerned. Tim and John Spence, with their former roles now reversed, went trundling around the place in the Twin. The Astir covering much more ground than the Rhonlerche and Blanik did. Dougal Wickham enjoyed his longest flight to date in the PW5 – 1 hour 35 minutes. Then Les Sharp, not on towing duties today, took the Twin away for an hour & 12 minutes. Tim was away in his Discus for just on the hour. So far I haven't heard how those expensive winglets performed. Les has kindly contributed an account of his flight for this issue. Read on…
Started the DI on WZ and the tech log showed that a supplemental inspection was required, so Tim was called upon, and we got on with other preparation that we could achieve while we waited.
My first flight was with Dougal Wickham who did a no-instrument flight; and he did it very well.
Later I took WZ up and Glyn Jackson towed me to the south end of Stratford where I released in reasonable lift at 2800' and got established quite quickly under what looked like a convergence. After climbing to 4000' I started searching around and quickly located sink in most directions. Dougal had been doing well a bit to the east, but a tentative exploration to abeam the power station wasn't promising, and soon after that TE was sighted coming towards the area I had been working. I watched Tim Hardwick-Smith launch in XC and then release over Stratford at what appeared to be quite a low altitude, and he seemed to spend quite a time well below us before finding his way up to cloud-base. I had contemplated a flight to Hawera, but then I spotted XC heading west so decided to follow him. He had found lift near the southern edge of the convergence, which was now over Eltham, where I had previously located only sink. At times I was doing 80 knots to try and stay under the cloud and about half way to the National Park boundary the lift was again on the northern edge. Over the boundary at 4000' (minimum for that area) Tim advised that it wasn't good ahead so I lingered in a bit of lift, climbed to 4200' and tracked directly back to the airfield arriving at 3000' after having dolphin-soared some scraps of lift on the way. It had been 1 hr 12 minutes of some challenges and some fun flying.
Glyn had made a good call on the weather, the activity remained a bit later which was okay considering the delay in getting started.
Thanks Les, reports from the field (and the sky) do add a lot to this newsletter.
I have added a new top page to the website so as to post advice about the next day's flying. It has been pointed out to me that there is a bit of a mystery to some about the daily intentions as to the club flying. This may address that and help too, those who have trial flight vouchers. Check tonight's info.
Happy New Year to anybody I haven't mentioned before.
Papa Mike.
Les Sharp, Glyn Jackson, Peter Cook & Will Hopkirk clean the Eurofox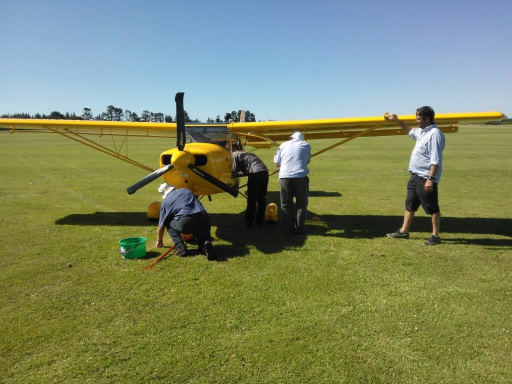 Les Sharp, Glyn Jackson, John Tullett and Will Hopkirk clean the Eurofox before
putting it away for the night.
25 Years Back:
A "Longest Day' event well supported by the radio station Energy FM and Martin Devlin went off quite well. The Daily News came on board too. Thirty-six launches for the day and Mike Gibson referred to on radio by Andi Brotherston as "My Hunky Glider Pilot"!! He'd taken her for a flight.
In November, members of the NP Fire Brigade and their families enjoyed a weekend of flying. This successful weekend organised by Les Sharp.
A wave day on the 30th, Bob Struthers and Peter Miller to 15,000ft and all other flights to better than 12,000ft.
The Annual Camp a bit of a mixed bag. John Tullett and Peter Miller enjoyed an evening flight to 5700ft in westerly wave. The Astir u/c damaged in a landing accident. A trip to Hawera went well – an evening BBQ with the Trichard family, Chris Griffin gave a passenger flight to a chap who'd done 1400 hours in Mosquitos, Mustangs etc. You can never assume!! An IFR take-off for JT and PM as fog rolled in during the return take-off back to German Hill. The club preparing to run the hospitality tent at the forthcoming airshow.
How the glider was posed for