December 20th 2015:
This Recent News contains a bunch of news that I've not, hitherto, had time to set down in print. Last year over most of November and for all of December there was no flying at all so we are well ahead at the moment.
Starting with November 7th: Steve Barham showed up, grabbed the PW5 and was away for an hour. Maybe a surprise to both parties I would think. Then Dougal Wickham was sent solo, had a short flight and to show it was not a fluke, did it again and stayed aloft for 38 minutes. Not only the above mentioned tales but John Spence came along, and had a 49 minute flight with John Tullett in the Twin. Must have enjoyed it for he has rejoined as a flying member and has paid a Bulk Flying Fee. John is a Life Member in recognition of his service in years past as a fund raiser, newsletter editor, Secretary and engineer too. He is a damn good pilot. Welcome back John, enjoy your flying and let others do the work. On the 14th, Tim took Dougal off for a couple of check fights then Les Sharp took the Twin off for a 51 minute flight. On Sunday 22nd, Dougal trailered the Twin off to Matamata for the X-Country week starting Nov. 23rd. Tim flew the Eurofox up, Glyn went too. The Twin flew 6 hours 58 minutes in 5 flights. Dougal had some good flights there and also had a flight to return a Janus back to Tauranga. Both Tim and Glyn did some instructing there. Check how the Eurofox has been going- Eurofox operational results and information.
Back to Stratford for the 29th, another check flight for Dougal after which he had three flights in the PW5. One for John Spence, a couple for Dennis Green, Will Hopkirk took his daughter Libby for a flight – a reward system going here I think! John Tullett showed how it was done with yet another hours flight in his K7.
So on to December. Glyn Jackson took part in the Auckland Regionals and came 8th I believe. Well done Glyn. Sam Tullett off down to Omarama for the Juniors course there. Stayed on for a while doing some more flying. I'm told he leads the NZ OLC competition at the moment. Go Sam.
December 8th was a different day when 13 New Plymouth Boys High School were given trial flights. John Tullett's K7 was pressed into service to help things along. The day went very well. And so we come to December 20th which was a wave day. It's a long time since the club has had a day like this one. John Spence and Peter Williams had 1 hour 21 minutes, 2hrs 38m for Tim in the Discus XC, 1hr 54m for Glyn in his Ventus, Peter Cook had 2hrs 15m in his Discus and then an hour thirty-two minutes for Les Sharp and Dougal Wickham in the Twin. The PW5 languished in the time stakes, I don't think the tows were high enough.
Glyn Jackson on short finals in his Ventus VV.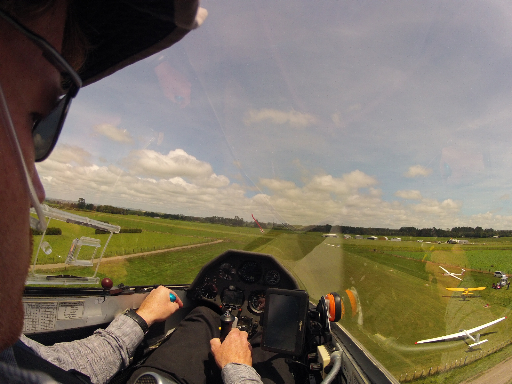 Quite a few hours flown by club gliders - 12 hours for WZ over the past 16 days and the P/O gliders too but a comparison with the 1979 Club Christmas camp at Matamata might be useful -
Rhonlerche 11hrs 23min
Skylark 22hrs 48min
Blanik 27hrs 50min
Auster 16hrs 14min.
How the Dec. 20th wave system looked from afar..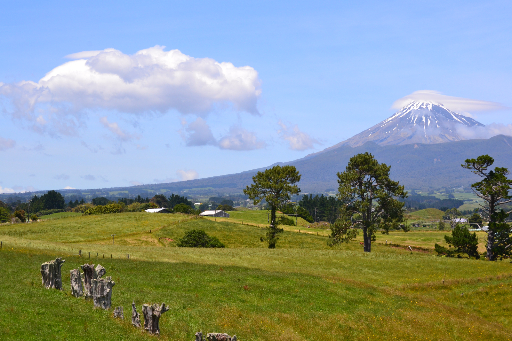 Les Sharp & Dougal Wickham at height.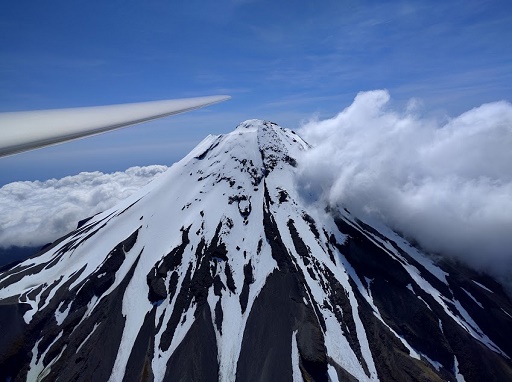 Some stories from Sunday: Les Sharp goes first:
I arrived at the field just after 10 this morning and decided that maybe I should look like a tow pilot, so I DI'd TGC, then tried to help Peter Cook to rig GYT, but was called on to do the first launch. That was WZ with Peter Williams and John Spence who towed to 3000 over Stratford. The crosswind landing on 09 was challenging. The remaining launches were from 16. Next was Tim Hardwick-Smith in XC who had his sights on a rotor cloud near the mountain, however he got off near the York Rd Quarry. Next was Sam Tullett in TE who released at 2000ft just east of Stratford township. Fortunately he found lift, because there was also lots of vicious sink around. Next up was Glyn Jackson in VV and he released near the secondary rotor just north of York Rd quarry and soon caught up with Tim who was in wave towards German Hill. Following that Peter Cook in YT claimed the record for the highest tow yet with TGC to get the satisfaction of getting off into the primary rotor. Last tow for me was Dougal Wickham in TE who towed to cloud-base just south of Stratford township. I then put some fuel in TGC and as no-one else wanted to launch, I took a lunch break.
Now I put on my soaring hat and launched with Dougal Wickham in WZ. Tim towed us towards the mountain along the edge of the cloud and we released into lift which Dougal exploited with some verbal coming from the back seat and we progressed towards Fantham's Peak as we climbed until we got to the front of the rotor and into wave at about 6000'. This appeared to be generated by the left of Mt Taranaki from Fanthams to the summit. While Dougal took a break to capture some photos at about 9000ft I went out to the north far enough to avoid any rotor and headed around the summit anti-clockwise. Because I couldn't determine the actual wind direction I avoided getting close enough to try any slope-soaring. Back in the wave, Dougal took over again and after tapping on the airspace ceiling at 9500ft we headed towards Eltham initially then towards Hawera. Ultimately I decided that we were low enough over Normanby that we should turn back. Now downwind we got to Eltham with spare height so went out to Toko and did a fast run back to the field. WOWEE.
Nice one Les, I could hear some radio transmissions from you and Peter Cook so I realised something was on. Some more photos from Dougal -
https://goo.gl/photos/oLYxD4XyEzgQENAZA.
Now here is a paragraph from Peter Cook:
Got high today, 9500 still going up but forgot to turn O2 on as had not flown for a couple months. Got side tracked, YT had bugs and cow muck to clean from Taupo comp landout. Wave is OK for views but boring so went
around Mt Egmont several times and ridge soared the western flank. Volcanic remnants are ugly without much snow. Did a Pouakais fly over also. Lift, 2 to 6kts, sink seemed more! wind 20-25kts. Thermals preferred. (Maybe, but Taranaki thermals don't go to 9500 feet! Ed.)
Peter Cook flight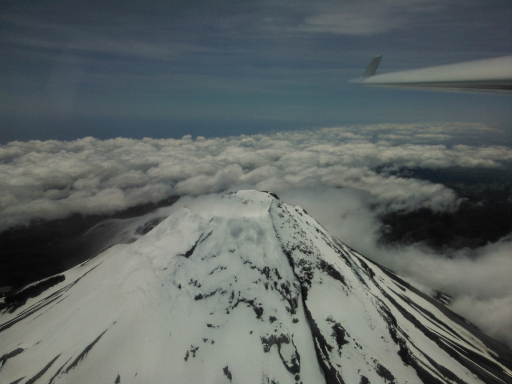 Good to hear WZ radio working well. The new bits and pieces must have done the trick.
A Merry Christmas and a Happy New Year to all our readers. I believe there is going to be some flying organised for the holiday period. So that is good. Can't find any positive info on that, so that is not so good.
Papa Mike.