1st January 2017:
The above is a photo of a Primary Glider being bungee-launched from a hill somewhere in pre-war Poland. How I came to have this was because of a rearkable seties of circumstances. Some years ago in England, I'd gone to Hendon Airfield and a Battle of Britain occasion was in progress. There was a Canadian couple present and I got talking to them. They were most kind and sent me photos and log-books that they'd photo-ed for me. These belonged to Stanley Socha who was a pilot of the famed Polish 303 " Kosciuszko " squadron of the RAF. He married an English lass and they had emigrated to Canada after the war. He died a year ago now, aged 94.
17th December was a good day. Not necessarily for long flights, but Andrew Berry, a new tow pilot, has joined the ranks and Jesse Robinson is working his way through the Temporary member phase and will join as an affiliated flying member in due course. About an hour thirty for the two-seaters, thirty minutes for the PW5 and fourteen flights for the day.
20th December: Two flights for the day- thirty minutes for Tim in the PW5 followed by an hour twenty-eight for Les Sharp.
28th December: Six flights for the day. After a check flight, John Spence was turned loose in the Janus. He put that licence to good effect by happily soaring around the place for two hours and thirty-eight minutes. Not least though was the presence of Lily Upton-Hansen who is the recipient of an ATC scholarship to continue with her gliding training. A forty minute flight to start things off. I brought a Canadian brother-in-law along and together with his cousin, they both had flights.
31st December: Six flights. One was a trial flight for a man inspired by the film 'Sully'. No river for him but after a check flight, Sam Tullett converted to the Janus. Got thirty minutes for his trouble. Considering the day, it was a good effort. Friday was a better gliding day - I noted a seven hour flight down at Greytown. We were pleased to welcome a quartet of Swiss visitors touring NZ and visiting any any airfield that they could find their wives resignedly following! Both men were instructors and on ha several hundred hours of gliding under his belt. Once again I'f found a prudent question or two indicated that they knew a thing or two about aviation. And Bruce Little from Tauranga was on the field too. All took a keen interest in our new towplane.
At long last we have put together some gliding days, albeit at the end of 2016. Let us hope that the second half of the season goes well. Safe gliding evevyone.
Papa Mike.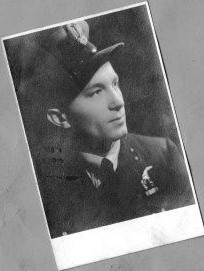 P/O Stanley Socha