Youthglide comes to Stratford
After much planning, emails, some (actually a lot of) thought and drafting of club members a Youthglide Camp was organised for mid to late January. Camp mothers and fathers enlisted. Accomodation sorted and a myriad of details attended to. Not the least being getting some young people to take part. The Camp began on the 15th January though an unofficial start was on the evening of the 14th. Flying generally began just after 8am and went through to 7.30 on some days. Those attending were Melanie Bishop, Sarah Harper, Connor Johnson, Nathan Whittleston, Liam Finer and Jacob Harper.The following pictures and account may give some idea of what happened.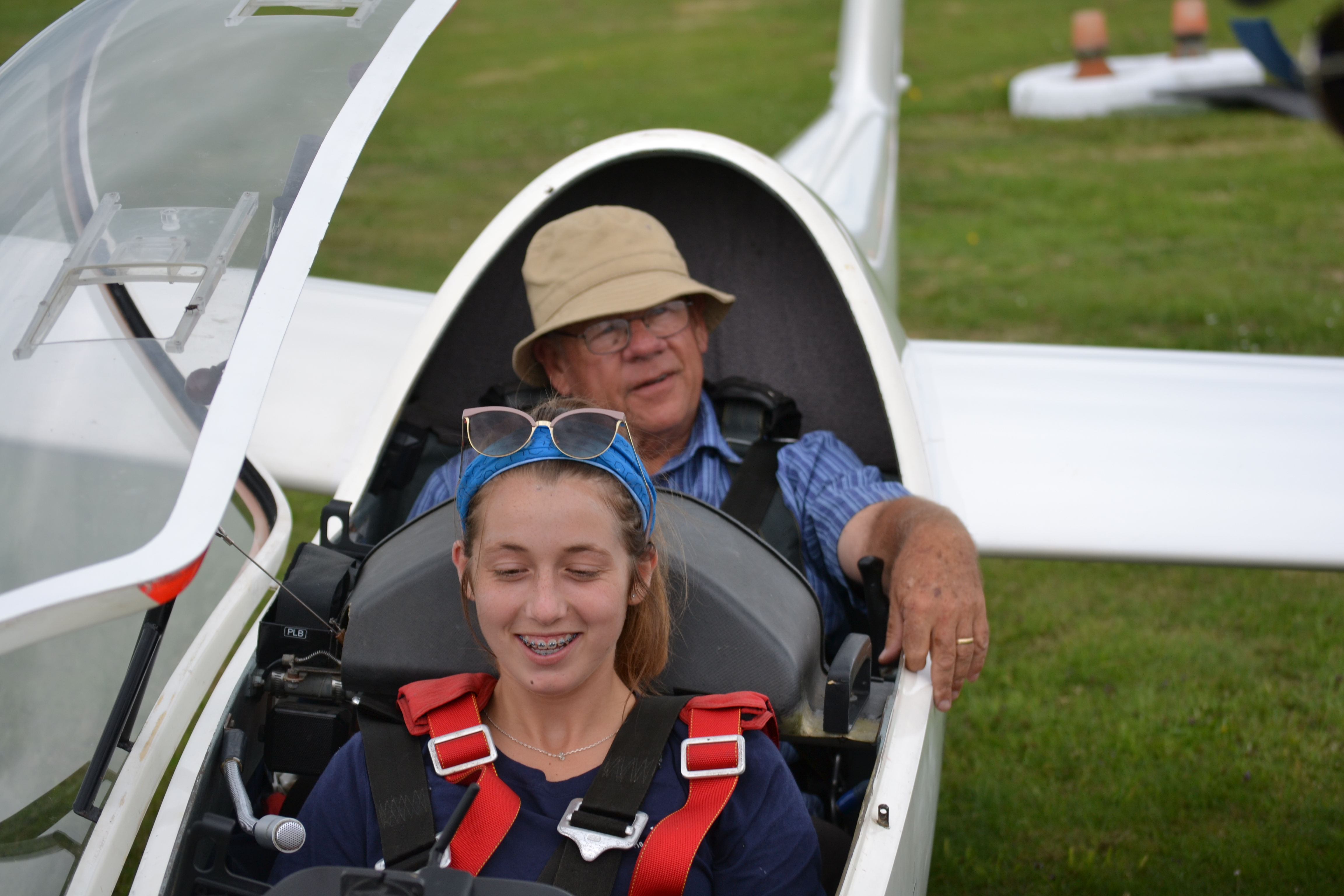 Melanie Bishop going through her checks prior to another flight. A benign John Tullett listening.
A busy three days - Sunday through Tuesday. YouthGlide was in town. Six students in town and flying continuing from 9am 'til late. Roger Read arrivrd on Tuesday and would have been well satisfied with what he saw. Nothing persuades like motivation persuades, for Youthglide flying started after club flying on Sunday and began on Monday and Tuesday at 9am and going through about six o'clock and actually about 8pm on the Monday. On that day, conditions were quite indifferent with little air movement until late then got going with Sam Tullett and Melanie Bishop finishing the day off in NN and Glyn Jackson and Nathan Wittleston landing in time so that Tim Hardwick-Smith could give Connor Johnson (just back from a funeral) a flight. Two-seater time was eight hours and fortysix minutes. Sam Tullett in ET managed fortyone minutes.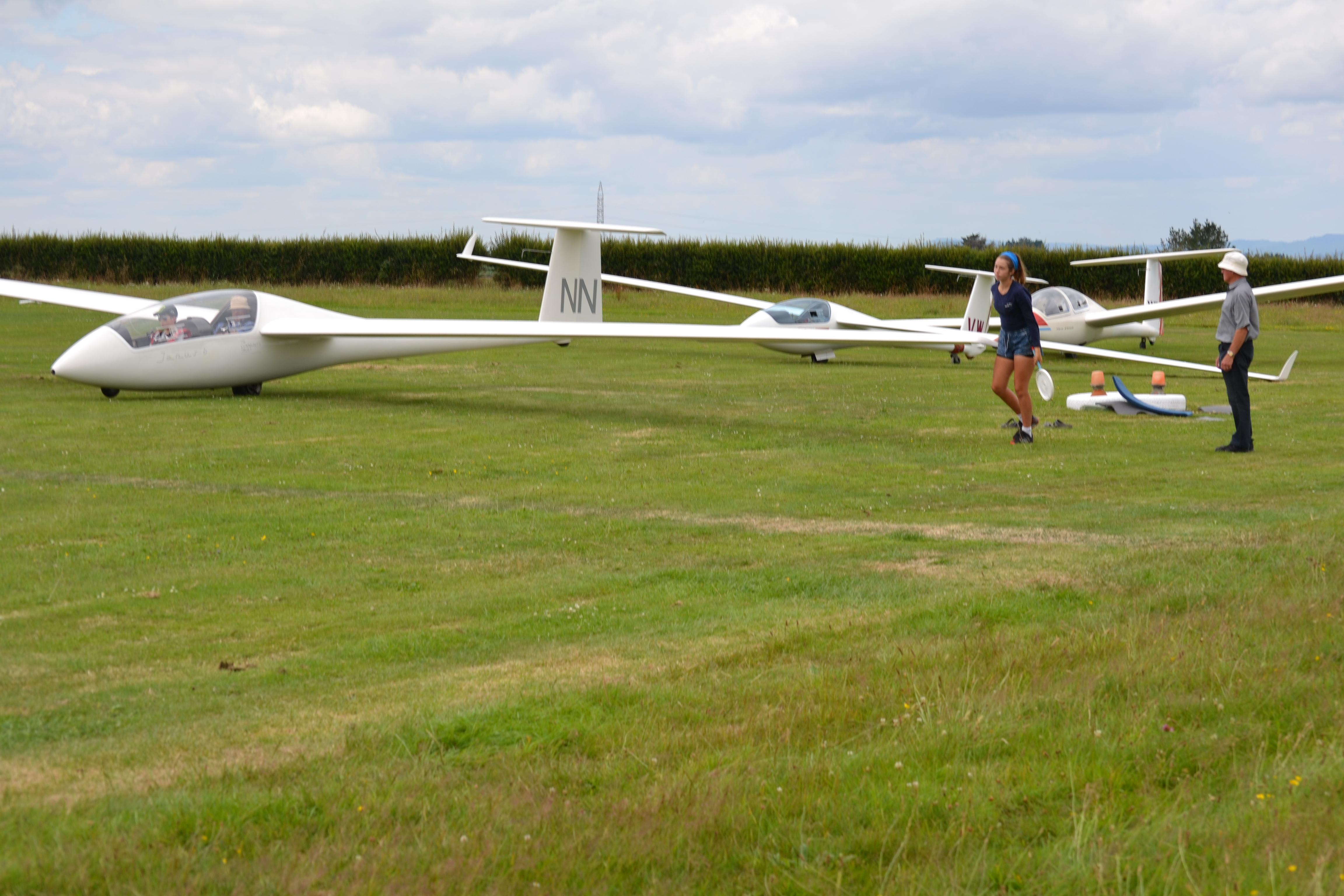 Melanie Bishop runs NN's wing whilst Les Sharp watches and waits so he can have a launch in his ASW20 VW.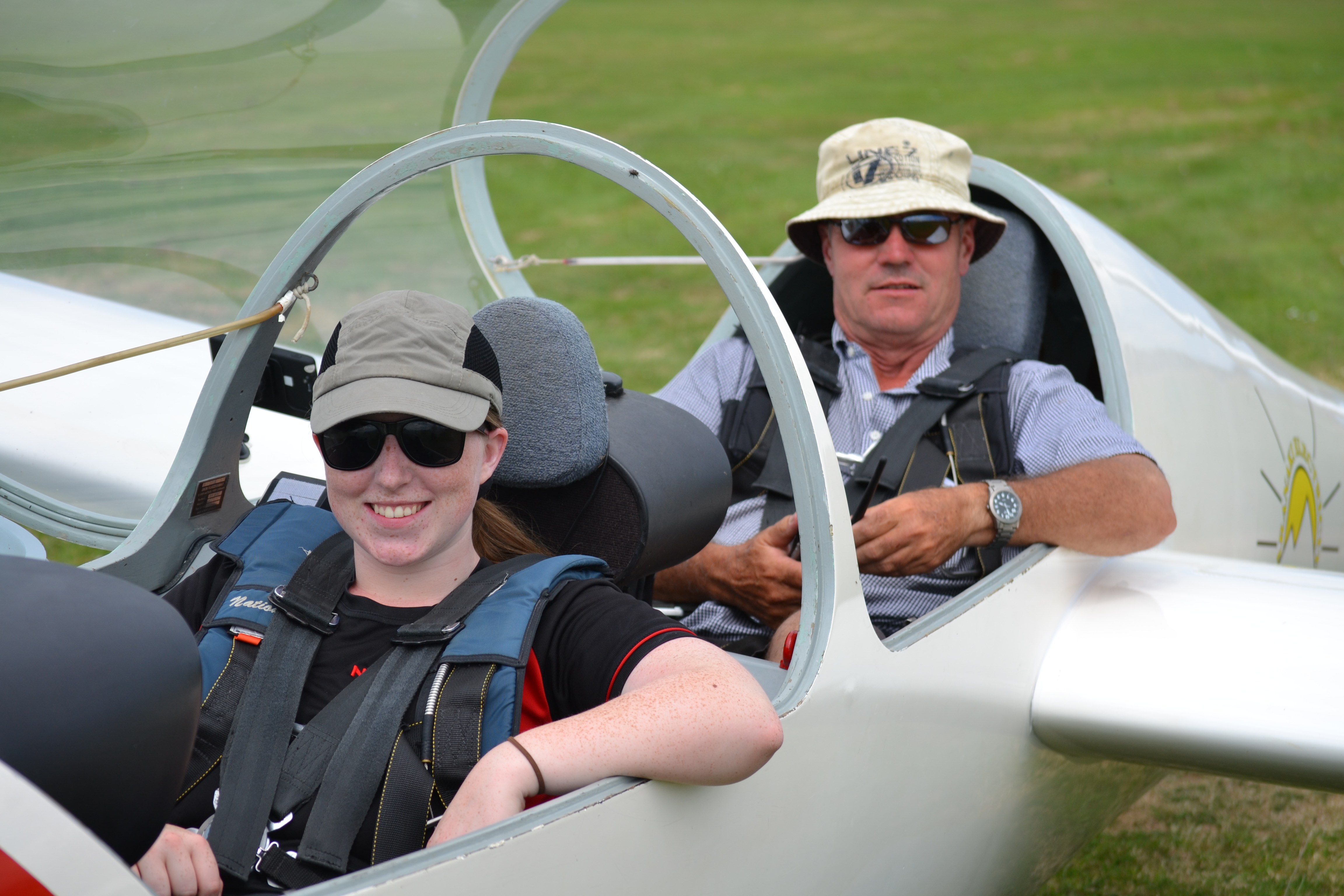 Tim Hardwick-Smith and Jacob Harper wait for the towplane to come back.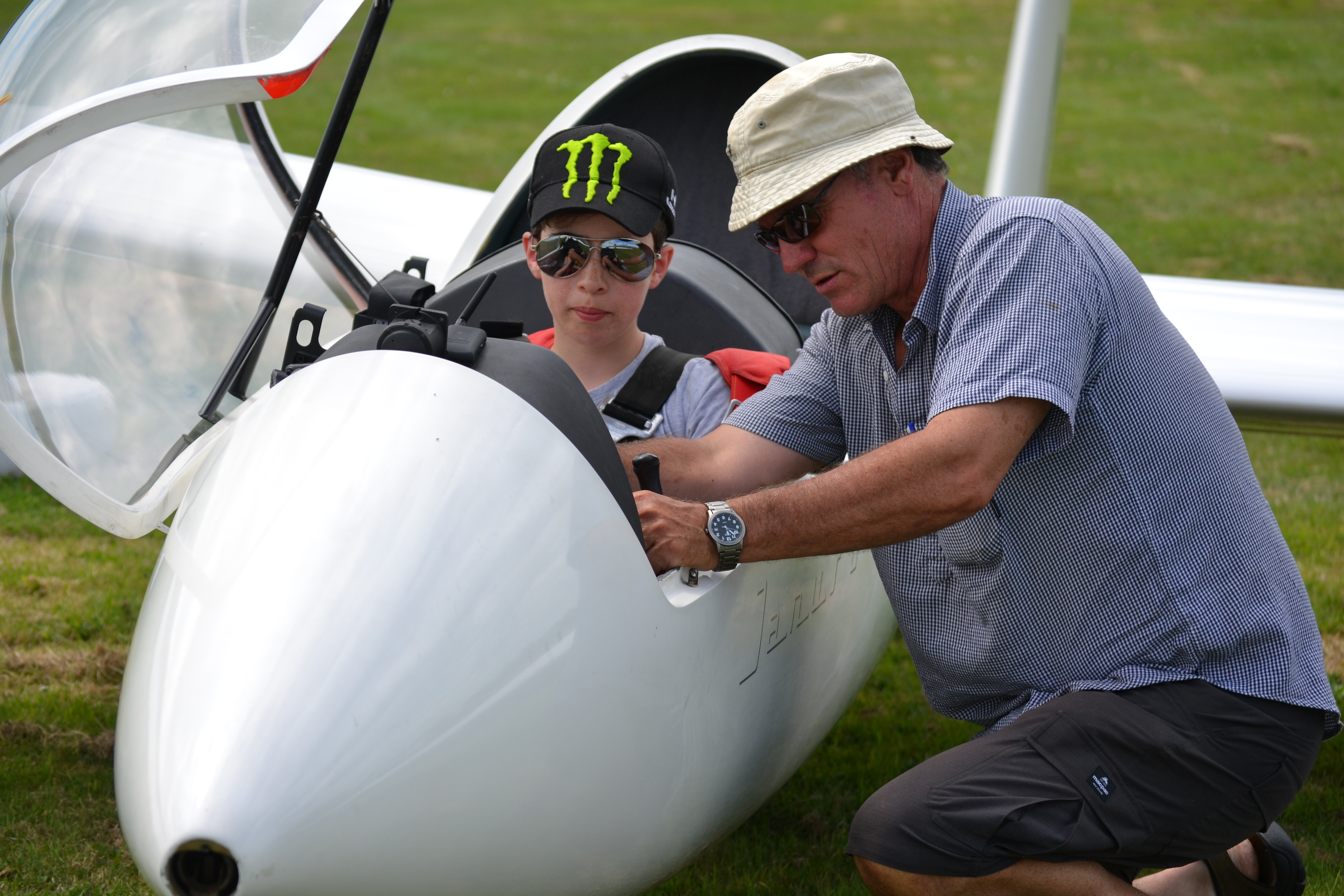 Liam Finer listening as Tim talks about the instrument panel.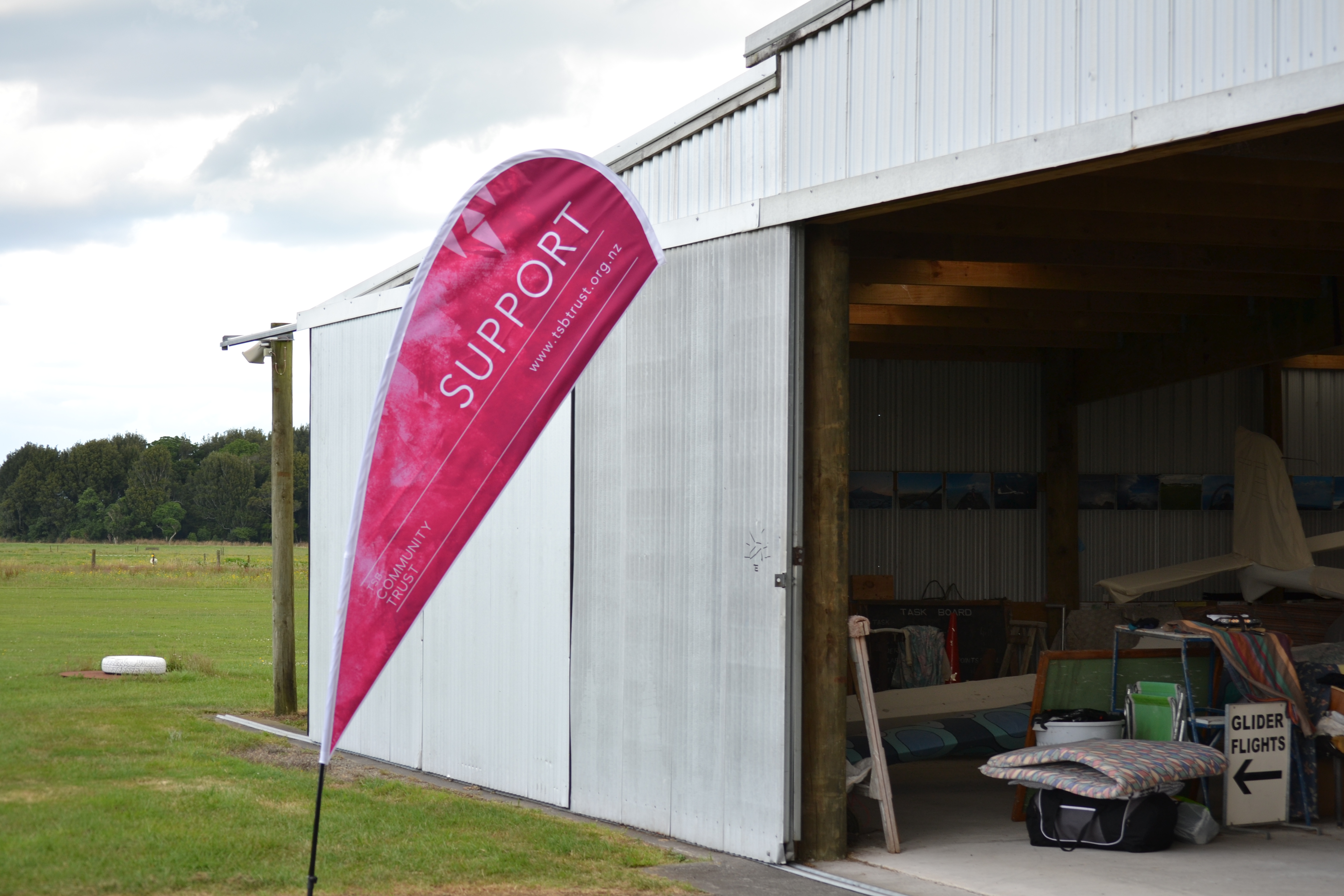 The Youthglide Banner outside the hangar.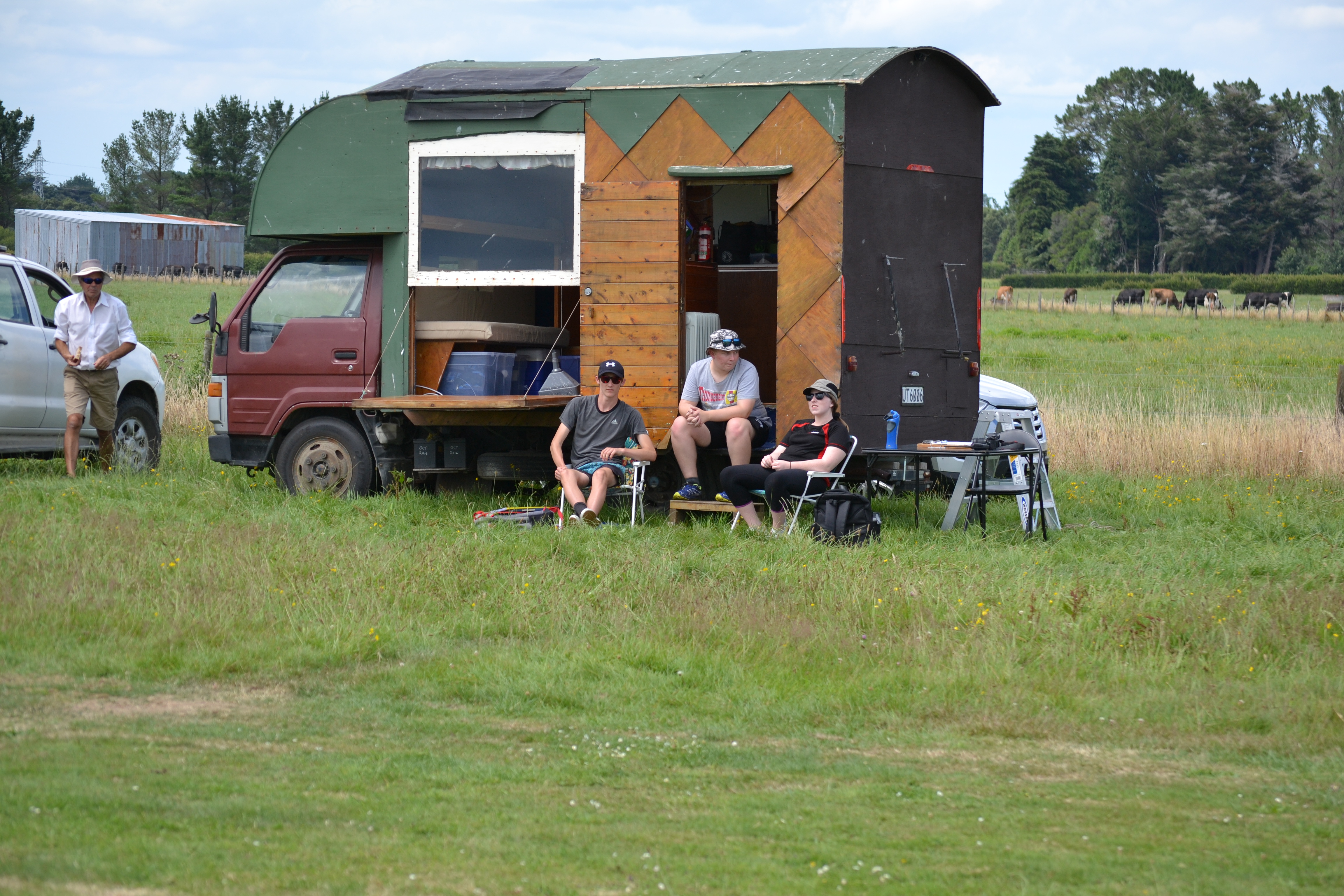 Nathan Whittleston, Connor Johnson and Sarah Harper awaiting their turn for a flight.
Tuesday was a much better day with some longer flights. Nine hours fifteen minuutes for the two-seaters and an hour fifteen minutes for the Tullett single ET which belonged to YouthGlide for the Camp. All the participants had good flights. This day the air was more lively with an obliging breeze kicking the thermals into life.
From the instructor pool the load was carried by Tim Hardwick-Smith, John Tullett and Glyn Jackson with Sam Tullett making an appearance. Andrew Berry doing a lot of the towing aided by Les Sharp, Glyn Jackson and Tim. Timekeeping from the steady hand of John Spence and Dennis Green in charge of the retrieves. The pupils were encouraged to hook the gliders up and run the wings. These tasks were carried out well - a rope knot was spotted and rectified before the glider was hooked on. The Camp had the airfield to itself for the duration which was nice. Dennis Green (long since he was a Youth!) launched in in the Club PW5 getting fifteen minutes on Monday and about an hour twenty on Tuesday. Roger Read arrived and did some backseat work on the 17th. I think he would have been well pleased with the way things were going. An early start again that day which probably made an impression on our instructors too.
A couple of days off because of weather i.e. some rain and then back into it on the 20th. Eighteen flights that day averaging about 11 minutes. Flying again on the 25th. Six flights averaging about 30 minutes. The Youtgglide activity finished on the 28th. Five flights. Longish ones for Sarah and Liam whilst Nathan was concentrating on circuit practice. All in all a very good exercise. The students signed up as members and some have been continuing their flying. I believe Youthglide have booked in for an encore in January 2019.
The club resumed its flying on the 28th with 2hrs 25m for Peter Cook in his Discus and 1hr 55m for John Spence and John Tullett in the Janus. A couple of Trial Flights and two short flights for Dennis Green in the PW5.
A rather busy month.
Papa Mike.