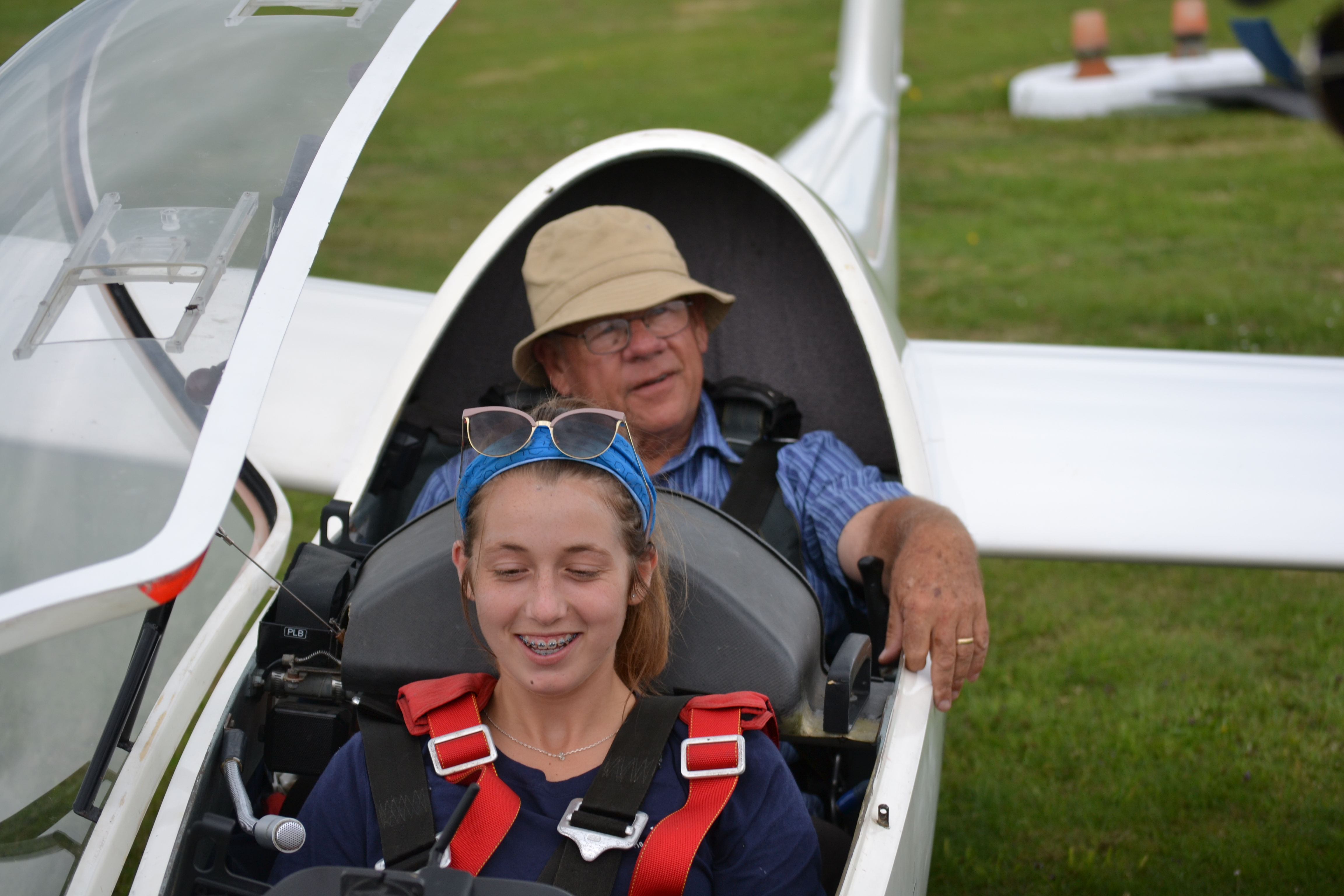 Melanie Bishop going through her checks prior to another flight. A benign John Tullett listening.
A busy three days - Sunday through Tuesday. YouthGlide was in town. Six students in town and flying continuing from 9am 'til late. Roger Read arrivrd on Tuesday and would have been well satisfied with what he saw. Nothing persuades like motivation persuades for Youthglide flying started after club flying on Sunday and began on Monday and Tuesday at 9am and going through about sixo'clock and actually about 8pm on the Monday. On that day, conditions were quite ndifferent with little air movement until late then got going with Sam Tullett and Melanie Bishop finishing the day off in NN and Glyn Jackson and Nathan Wittleston landing in time so that Tim Hardwick-Smith could give Connor Johnson (just back from a funeral) a flight. Two-seater time was eight hours and fortysix minutes. Sam Tullett in ET managed fortyone minutes.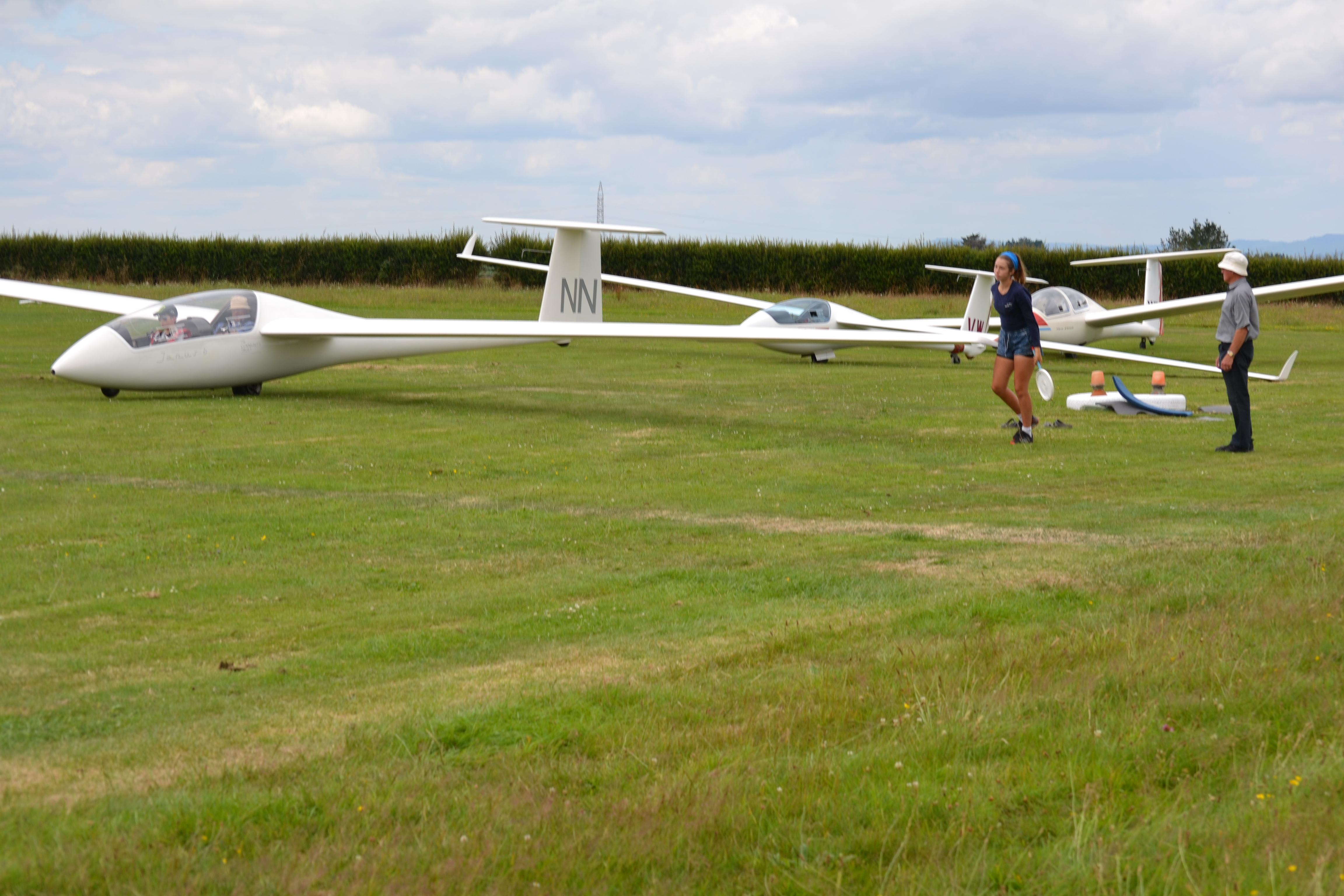 Melanie Bishop runs NN's wing whilst Les Sharp watches and waits so he can have a launch in his ASW20 VW.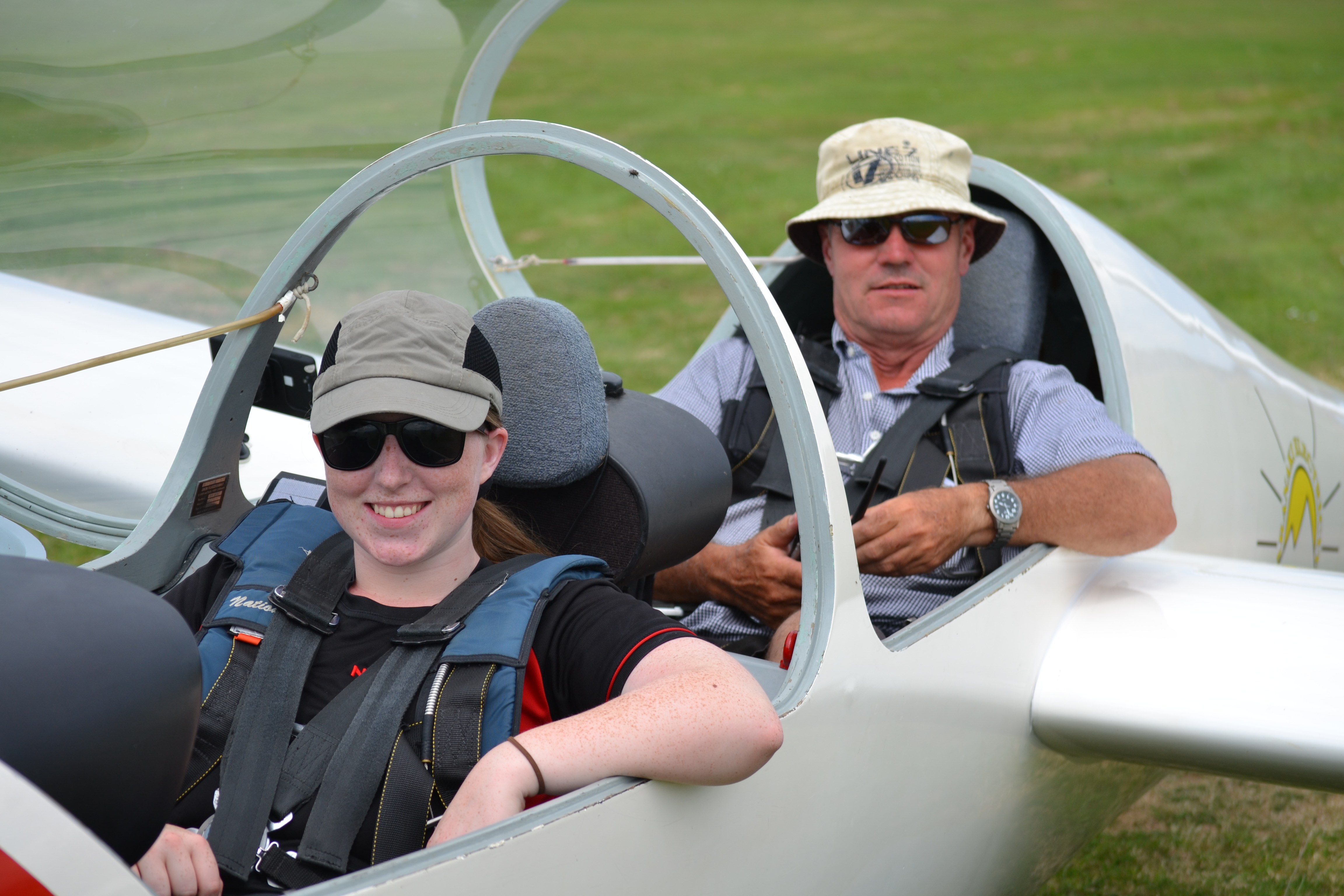 Tim Hardwick-Smith and Jacob Harper wait for thr towplane to come back.
I'm advised that YouthGlide flying continued during Saturday and all day today - Jan 22nd with some twenty flights. No details yet.
Tuesday was a much better day with some longer flights. Nine hours fifteen minuutes for the two-seaters and an hour fifteen minutes for the Tullett single ET which belonged to YouthGlide for the Camp. All the participants had good flights. This day the air was more lively with an obliging breeze kicking the thermals into life.
From the instructor pool the load was carried by Tim Hardwick-Smith, John Tullett and Glyn Jackson with Sam Tullett making an appearance. Andrew Berry doing a lot of the towing aided by Les Sharp, Glyn Jackson and Tim. Timekeeping from the steady hand of John Spence and Dennis Green in charge of the retrieves. The pupils were encouraged to hook the gliders up and run thr wings. These tasks were carried out well - a rope knot was spotted and rectified before the glider was hooked on. The Camp had the airfield to itself for the duration which was nice. Dennis Green (long since he was a Youth!) launched in in the Club PW5 getting fifteen minutes on Mondad and about an hour twenty on Tuesday. As yet I do not have any details for the flying on Sunday and a couple of other flights were estimated so near enough might have to be good enough