March 9th to April 3rd 2015
It would be no surprise to learn that March has been given over to working up the Eurofox, or, not to put too fine a point on it, working up those who will be flying it.
However, on March 9th, Les Sharp took the opportunity when Ralph Gibson dropped in with the Hawera Tecnam and tried a launch in TE. In weak conditions, he got 17 minutes from a 1700ft tow.
March 15th was the day for the Eurofox TGC when Wayne Richmond took the aircraft for a two hour test flight. Must have been satisfactory because Tim was then checked out, given a type rating and did an hour doing circuits.
The 18th saw Glyn get a rating and do thirty minutes. Would have been a nice conclusion to all the work he has done on the project.
On the 20th, Tim did a circuit then handed over to Les who did circuits for forty-eight minutes. He'd already gotten a rating from John Goddard in the Canterbury Eurofox whilst on a South Island holiday.
The 21st saw circuits for Ralph Gibson and John Tullett with Tim followed by Les taking Dennis Green for one. The PW5 was then wheeled out. Les had a flight, then two for Glyn and one for Tim who had done the first three tows and Les the final one, towing Tim into the air. All reports were of good launches and good climb rates though I'm unsure of the ground to ground times for the launches which were to 1000ft.
On March 27th, Glyn Jackson and Ralph Gibson had a glider flying day all to themselves with Ralph doing about half-a-dozen tows and Glyn doing one. The PW5 was the glider used. This concluded a relatively busy month for the Eurofox. I'm told it is performing well. The two-seater flights on April 3rd indicated 5min. ground to ground for a 1000ft tow.
As mentioned above, April 3rd saw DN with JT at the helm being towed off and then some for WZ. Here is the story from Les about the day:-
With just John Tullett and I being the total of our highly enthusiastic members, DN was duly placed at the threshold of 09 and with a bit of rope between it and TGC it flew to 1000' agl for a circuit. On the second attempt John stated that if I towed him to the North-East to 1300' agl he would see where there might be lift so that he could do some soaring on the following flight. It took him 39 minutes to return to earth.
Just before he came back, Tim Hardwick-Smith phoned and advised that he would fly over and join in the fun. When John landed we exchanged DN for WZ and Tim ran the wing for John to do another circuit. The "circuit" took 13 minutes.
I said I would like to try some soaring, so Tim drove TGC and I cautiously hung on to the rope to 2000' agl. With some scratching at times I managed 46 minutes, although the lift was still there when I decided the it was time to come home. Had I worn my sweatshirt, I may have stayed up longer. I didn't get above 3400' at any time and was working short convergences to the North East and West of the airfield. All was quiet so the rejoin was done at 120 knots.
For a day that looked mediocre, it wasn't too bad.
(Not sure about sweatshirts, I thought thermal hats were the secret. Ed.)
First tow for the Eurofox-87
The Eurofox does its first tow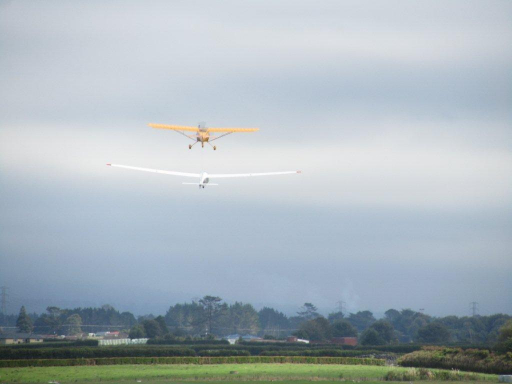 According to the the timesheet it should be Les Sharp in the PW5 and Tim Hardwick-Smith in the Eurofox. And one of them must be flying straight! Glyn Jackson took the photo.
Now follows a story by Will Hopkirk about Libby's first flight.
Libby,s First Flight:
As my children have grown to a size when they could see out of a glider and enjoy a flight I have tried to introduce them to gliding with a memorable flight, Maddy flew with me on a great mountain convergence day a straight flight to Fanthams peak and Mitchell ( Iron guts) flew a classic thermals day along Beaconsfield road over Midhurst and York road. As soon as Mitch had completed his first flight Libby informed me she was next .The next week our tow plane was wiped and the great wait began for Libby the various explanations - we don't have a tow plane, I don't have a winch rating yet, today won't be a very good day, were all taken well for a 8/9 year old. However last weekend when I announced that today was the day Libby was a little sceptical that it was going to happen.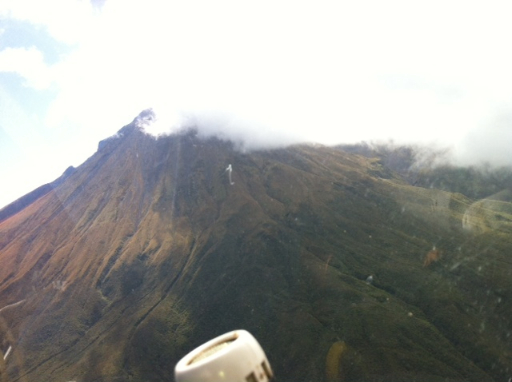 We towed out west over the town and released into good lift then worked our way up to the bush line north of Pembroke road the cloud street petered out at this point so we gained height working our way back to Pembroke school then crossed to the southern cloud street and flew this all the way up to the mountain over Dawson Falls. There was extreme lift on the southern side of the cloud street up close to the mountain but it was pretty turbulent so we turned and flew out over the town and Waiwiri road then back to the airfield for some chandelles and a landing.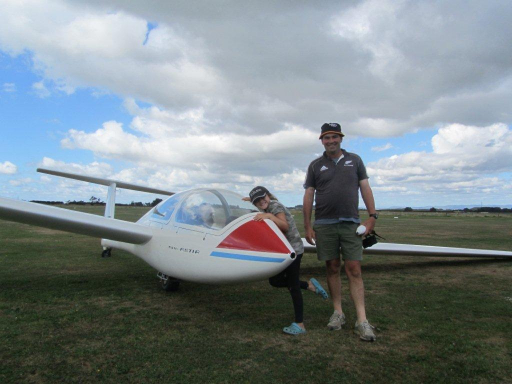 Maddy looked out the window willing herself not to be sick, Mitch studied the vario and talked flight times but Libby looked out the window, whooped in delight when she saw her friends house and loved the chandelles.
In summary I would say sharing the thing you love with the people you love is fantastic.
Will Hopkirk. March 2015.
A nice story to round things off. Will do one about the contribution of the Pawnee and how we came to decide on the Eurofox in a later edition. Also, in due course, I'll pen an article for SoaringNZ and ourselves, about how we came to build and use the German Hill Airfield which is an epic saga in the history of the Taranaki Gliding Club. There are some fascinating stories to be told.
Papa Mike.