Flying, as it happened in March:
14th March: Six members of the New Plymouth ATC squadron had flights. John Tullett, Tim Hardwick-Smith and Peter Williams, all providing words of wisdom on the mysteries of flight. Then it was the turn of the Club to do their own flying. A couple for Trent Lochhead, a local flight for John Carter in his ASW15. A X/C for Peter Williams and John Spence in the Janus. 11 fights for the day with Jim Finer at the helm of TGC.
20th March: Another four ATC flights. Tim Hardwick-Smith, Glyn Jackson and John Tullett in the back seat, (not all at the same time!) Then Ross Perry was in charge of a Trial Flight. A X/C fight of nearly two hours for Peter Cook and one each of just over the hour for John Carter and Dennis Green. Tim availed himself of half an hour in the Tullett K6e. Nine flights for the day with Les Sharp doing the hard work.
27th March: Check flights for John Carter and Dennis Green. A couple of flights for Trent Trent Lochhead who is applying himself diligently to the task of learning to fly gliders. John Tullett and Clinton Steele the instructors Peter Cook did an hour and 33m in his Discus. A tow to 4500ft being of some help I think. Five flights for the day with Jim Finer in charge. A rather quiet month after the preceding one but busy enough.
Below: Peter Miller with his grandson Dylan who is ready for his first glider flight with Glide Omarama instructor Sabrina Schell. Dylan was treated to an exciting flight. Sadly, Glide Omarama would close it's operations a few days later. Dylan though, is now one of our Junior members.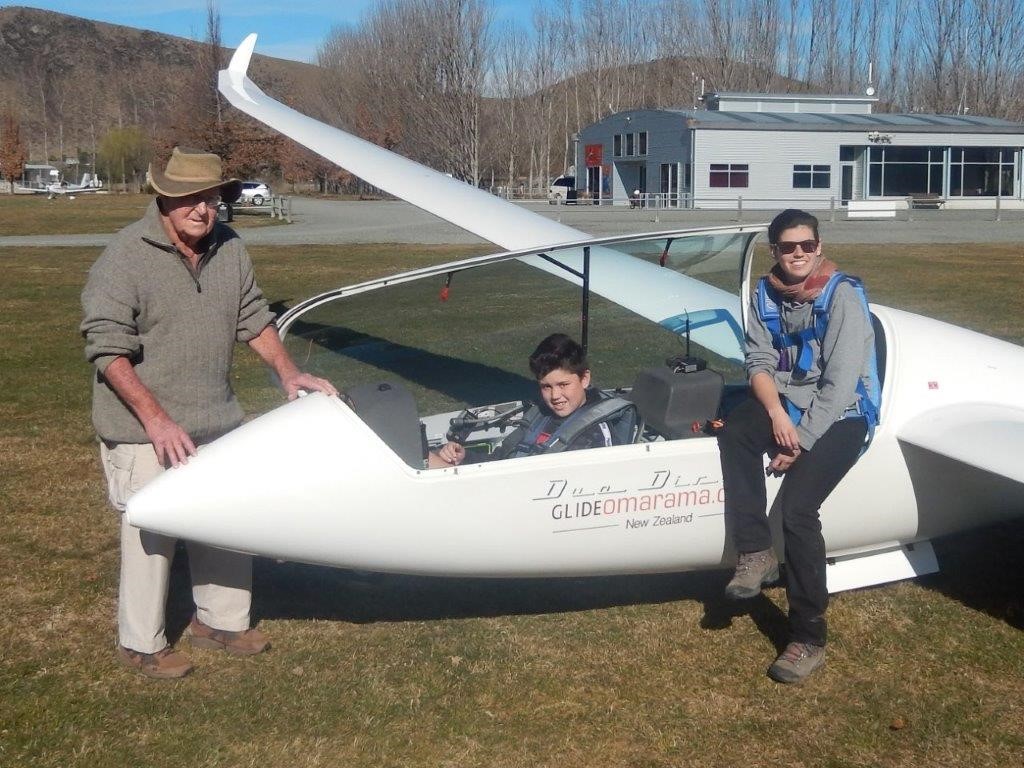 Above: Canadian Geese formations following an Autumn storm in 2018. The Geese were really quite disturbed and endeavouring to find their mates.
Now: for some another interesting item. It embodies a text string from Les to me whilst he was at Te Kuiti and then at Ypuk.
Te Kuiti & Waipukurau stories
Les Sharp
Les: 3rd Feb. - Good conditions yesterday. I launched just after 1300, flew east to Lake Arapuni aiming to use Tokoroa Airfield as a turning point but the lift got weak so i headed back towards Te Kuiti and spent some time scratching around SW of Maungatautari at 2500ft doing a close study of available paddocks. A quite good looking one was a good reason not to go far away. After a time I did venture out and fell into a good looking thermal which took me to 4000ft and from there a return to Te Kuiti was an opton. However Taumararunui was also on my turnpoint list and the chance looked good, so I flew under the nearest cloud street and got the first climb of the flight above 5000ft and from there I was able to maintain enough altitude to get within final glide distance with only two climbs in good lift to ensure a margin if I found serious sink. Flight time was 3hrs 53min and the Oudie showed some 200km.
Ed: A good flight. Good initiative and thanks for the story. Always good to get away after a bit of scratching below return glide height.

Les: Scratching is okay but I'm still nervous about what a good looking paddock has hidden under the grass. Around here there are quite a few airstrips but I couldn't see one when it would have been useful that day. Looks like the weather will be good tomorrow. I have been invited to lunch with a friend today so won't get bored.
Ed: A Benalla instructor of mine reckoned that one of the biggest pitfalls for a X-country pilot was to see an airfield, they would feel obliged to land on it. So just as well you didn't see many (or any) airstrips- you worked harder!! Paddocks that have been cropped for hay would be suitable so long as the bales have been shifted.

Ed: Well done.
Les: I was low enough AGL at the time to know that if I got any lower it would have been silly to move away without being able to see a better option. I also remember Fin's advice that sometimes you have to loiter for a while and wait for the conditions to improve,and in this case they did.

Les: Hi Peter. A couple of hours local flying yesterday. Didn't get more than 10Nm from the airfield at any point. Some dramatic climbs and sink to match. Kevin Clark was more ambitious and had to land out near Otorohanga. Regards. Les

Ed: Thanks. The weather a bit scruffy again today I would think.
Les: Yes, quite a breeze at present.

Les: Hi Peter. Yesterday proved to be a bit better than the day before. Still, struggled for a while after releasing from tow. Ended up doing 2hrs 40 minutes with excursions to the south, then west and finally the east. The latter to 10nm from the airfield. When I got back they were launching a glider and to create a delay I climbed 500 ft in a thermal which was above the line of downwind for the runway. A case of glider holding for power! Plan is to de-rig (too many others occupied similarly when I landed) and head home.
Ed: Always a thermal on the downwind!!
21st February: Hi Peter. Waipukurau. Taranaki well represented. Practice day yesterday, blue thermals. Limited task set. I managed to get to two of the AAT circles but landed out near Takapau. 2 hours 19 minutes. Today similar with a 3 turnpoint AAT task. I found the thermals much further apart. Got to 1 and 2 circles but decided that conditions were weakening so landed back on the airfield. Two hours fifty minutes. Regards. Les.
Ed: Thanks. Let's hope things get better today if the A/C inversion lifts a bit or weakens. Good to see the TGC so well represented again.

Les: Just finishing first briefing. Conditions appear worse and may not be a task set.
No task today. Apparently one glider launched and had a good flight. We visited a relative in Havelock North. 31 degrees today, 32 yesterday.
Ed: Goodness. I hope it gets better. Less cooking more flying.

Les: No task today, conditions worse than yesterday. I launched about midday but thermals were being blown apart by the wind. Got to 3000' a couple of times but give it away for a total of 41 minutes. I thought that JT was also giving it away soon after me but I see that he logged a significantly longer flight on the OLC. That was after a down wind call. I had encountered thermals down wind but didn't try working them. Regards. Les
Ed: Must be frustrating.
Never try working thermals late in the circuit. I lost a good friend who tried that. - and spun in.
Les: Airspeed is always the first criteria and balance. One day at German Hill I was downwind with a passenger in the Rhonlerche and ran into a thermal, opened airbrakes and still going up so shut the airbrakes. Had gained 400' so turned in it no problems except that John Spence (CFI at that time) was waiting to take off. He didn't want to know about my problems!
A better day today. AAT task with 4 turn points. I didn't go to the second which was near Pahiatua, put off by lots of blue sky. Went to the others, but only 69 km for distance to the first and return. OLC distance was 166 km and I flew for 3hrs 29 minutes. JT got around in ET, so obviously I wasn't daring enough. Dennis landed out and won the day in the Sports/Novice class beating the other competitor...... John Carter! I had registered for the Novice class but changed on arrival here. Didn't want to risk being beaten by them!!!!

Ed: I saw some. progress on the tracking link.
Les: Glad you are following us that way. Cloudy this morning
No task today. Extensive cloud cover and thermal forecasts showed limited area for a relatively short time. Hopefully better tomorrow. Sue and I visited Napier.

Les: Hi Peter. Another AAT task today and I got around a couple of points add into the circles for the other two. Are you watching the results? The weather limited the available area for setting tasks. Regards. Les

Ed: Do you have trouble setting yourself up to navigate the task?
Les: Not sure what you mean by trouble? I have got the details of loading the task into my Oudie fairly well sorted now. Am also getting to know the area. Had never flown from here previously.

Results: Sports Class: 1st. John Carter
2nd. Dennis Green
3rd. John Chittenden
Racing Class: 1st. John Robertson............
Peter Cook 15th.
John Tullett 16th.
Les Sharp 23rd.
Glyn Jackson 29th. (On towing duties. Flew a couple of tasks.)
Thats enough from me, finally got all the material together, best send this on its way.
Papa Mike