September 27th & 29th & October 9th
Sorry about the late writing up of these flying days but I have been otherwise busy but never mind, here we are, at the laptop and raring to go. I have though, rewritten the account of the 27th.
The 27th of September has seemingly ushered in a welcome change in the weather pattern from the indifferent stuff that has been our lot over the last few months. A couple of trial flights during the day but Will Hopkirk got things going with over two hours in the PW5, ranging from the Egmont National Park then to Toko and surrounding parts. Good one Will, let's have another one. Brett Emeny showed up in his Yak for a forty minute flight with Tim and then departed. (Brett was a TGC Club Captain in days gone by before he escalated to rotary wings.) Then it was the turn of the exotic machines. Two hours fifty minutes for Glyn Jackson in his Ventus, two hours twenty-four minutes for Peter Cook in his Discus, two hours fifteen minutes for Peter Williams and Dougal Wickham in the Twin and Les Sharp getting way out to the Pouakais then back to Mangamingi during his hour and twenty-three minutes and here is his story –
Having arrived a bit late at the club, I was still keen to fly after the break over winter and my time away from NZ. Tim was towing so I looked to see if another instructor would do a check in WZ to see if I remembered what to do (I had done a Power BFR on Friday). No luck there but Tim authorised me to take the PW5 TE up, so after launching WZ with Peter Williams and Dougal Wickham on board I lined TE up and towed to about 3600' west of SH3, released in lift but either didn't centre, or it disappeared. After a quick search some more lift was located and climbed to over 4000'. There was what appeared to be a nice convergence line, but although there was a well-defined step in the cloud it wasn't producing much lift and I had to move out to the sunny edge of another line of cloud where I got good climbs up to around 4500' and progressed out to the North Egmont Visitor Centre. From there I went out over Henry Peak on the Pouakai's but couldn't find lift around it. Got down to 4200' there so headed east after getting the feeling that I was too low for my comfort, found plenty of lift along the front of the convergence which had formed up into a well-defined line back towards Stratford. At times I was doing 80 knots and considering that I may need some airbrake to stay under the cloud. I was down to around 3800' over the airfield when I found another good climb that took me back to about 4200' so I headed east along the convergence climbing as I went for a time. Peter Cook in YT was over Gaine's airstrip circling so I headed that way and as he departed, I located lift that got me back to 4500'. From there I went out overhead Douglas where I got up to 4600' and contemplated whether to head towards Te Wera (which I couldn't identify), or to Mangamingi (which I could see). The easy option was selected so I inspected Tim's airstrip from 4200' and headed fairly much straight back to Stratford (where I was able to advise Tim that there were sheep on his airstrip, although he seemed to be aware of this fact!). This is the longest flight I have made from Stratford, and it was most satisfying to do it on the first day back after a significant break.
The PW5 track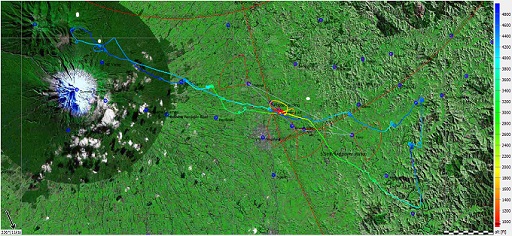 Thanks Les, there is often a good tale to tell about a soaring flight and your contribution is much appreciated. Eleven hours thirty-three minutes all counted for the gliders flying that day.
And Peter Cook adds a few lines-
Yes a great day was Sunday. My first flight for 3 months, flying a bit uncoordinated to
start with but settled in to get the Poukai peaks, Norfolk, Ratapiko, Douglas, Mangamingi, Rotakare as turn-points and then a 100kt run back to the mountain. Saw Les over the Swamp and then in Mangamingi in TE - low too! (Spy in the sky!! Les had it otherwise! Ed.) Ran out of places to fly – well, lift didn't go too far east. Worth the wait- still haven't
figured out the OLC upload hurdles yet.
The Eurofox returns for another tow.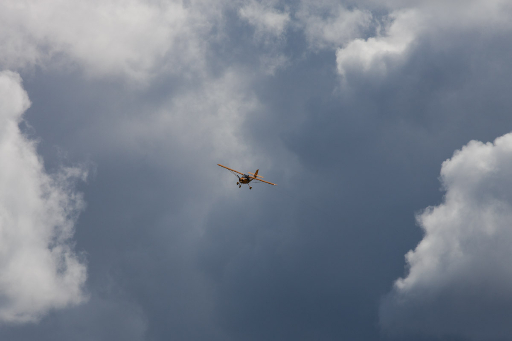 A change of pace for the 29th. Sam Tullett checked out by his Dad and then aloft in TE. A bit lean on his tow height was Sam, arriving back onto the field seven minutes later. The team of Will Hopkirk and Dougal Wickham doing the two best flights of twenty-eight and forty-one minutes. Seems as though one or the other, or both, must be doing something right. The day not nearly as potent as the Sunday prior.
A bit of a gap then until October the 9th. Another desultory day like the 29th. Les Sharp had the best of it really in the PW5 as opposed to Glyn Jackson who did a riff on X-country flying in the Ventus but found more air going down than was going up and then found the Ganes topdressing strip a more congenial place to be. Les Sharp and John Tullett arrived in the Eurofox for the retrieve.
Eurofox and Ventus at Gane's airstrip. Note the bend past the trees.
There is to be a flying day on the 15th, a Friday. The weekend looking a bit dozy I'm told. I'm also told that Sam Tullett will be off to Omarama for a Junior gliding camp. What a splendid opportunity.
Papa Mike.