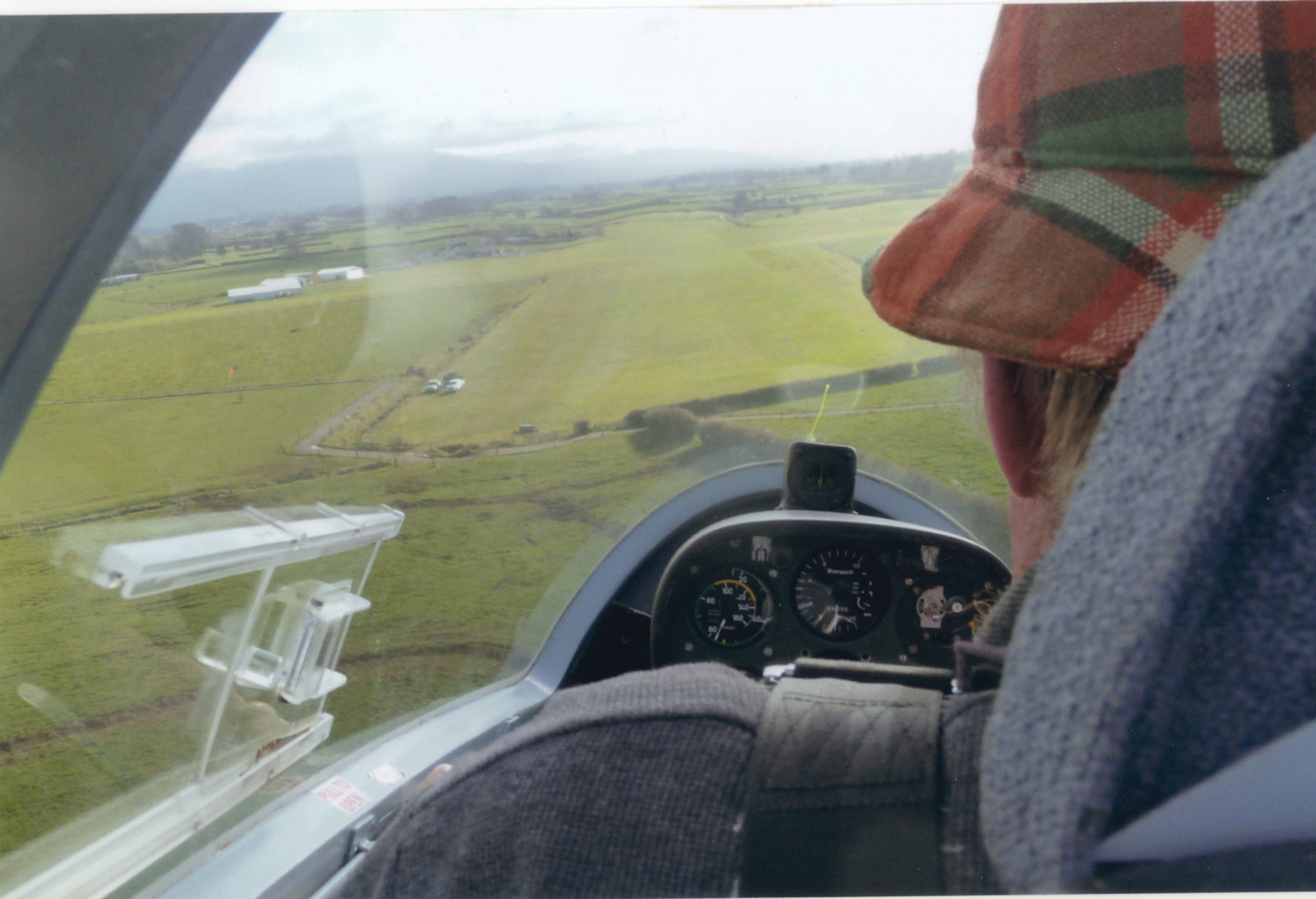 Peter Miller and Peter Cook lined up, short finals 027 Stratford.
January was busy enough with some soaring available for those who wanted it. Some pilots achieved personal goals of one sort or another which is good for them and the club as well. A few trial flighters showed up to help things along. Glyn Jackson doing some flying in the South Island and returned near the end of the month.
January 6th: Jason Coxhead started the day off with a trial flight for himself with Tim explaining the mysteries of soaring flight. Dennis Green nearly made an hour with a couple of flights in TE whilst John Spence discussed more soaring mysteries with Tim by having nearly an hour-long flight in NN (some pilots refer to the glider as Nana Nana). John said it was hard work - whether the explaining or the flying he didn't say.
January 12th: Trial flights for Hunter Nunes-Vaz and his father Jim. 1:38m for Dennis, continuing to picnic with almost sole use of the PW5. Peter Cook all over the place in his Discus YT. Peter Williams briught his K6 - blinking in the sunlight - and did 45m. 32m for John Spence and Tim in NN followed by Steve Barham with 45m in TE. A trial flight for Andy Jones with John Tullett in NN and Les Sharp got one hour 35m in V W which included being at 6000ft over the Pouakais at one stage. Steve Barham completed the day with 20m in NN with Tim. Ten flights for the day and ten hours thirtysix minutes glider time.
January 19th: A couple of flights for a visiting German pilot David Bente and wife Amelie. David, who is training with Lufthansa, had a 24m check flight with John Tullett then had a 28m flight with wife Amelie in NN. A 25m flight for Peter Cook in his Discus and Les Sharp was off again in his ASW20. No time given. Four flights, one hour 17m+. John Tullett went off to spend a week at Taupo.
January 26th: Hunter Nunes-Vaz back for another couple of flights with Peter Williams in the Twin Astir. This time he came as a Youthglide member. An uncharartistacly short flight of 16m for John Spence with Tim in NN. Obviously no time given to serious discussion on the finer points of soaring. Dennis Green got two hours in TE after two flights. A difference this time was that he did an outlanding on the Hardwick-Smith airstrip at Mangamingi then Gyn Jackson towed him out and Dennis spent an hour thrtyfour minutes local soaring near Stratford. Excellent work Dennis! Jim Nunes-Vaz had a 36m flight in NN with Tim Then Tim took Peter Williams for a check flight in NN with Tim then Peter cheerfully did a conversion flight of 44m. Four hours thirtyseven minutes and eight flights. And that was a good note to finish the month on.
February 3rd:
Day 5: From the Taupo Soaringspot News:
Oh dear. Visibility about 5km in misty drizzle. Various weather models have various ideas on when it will clear, but if we do fly today it will be a latish start. However the pilots have been working pretty hard over the last couple of days, so a quiet day might be welcome.
Sebastian certainly worked hard yesterday for a win in the MSC contest, as did Pat Driessen and Keith Essex for 2nd and 3rd. Tim Bromhead took out daily honours in the Club Class, easing past Mike Strathern for first place overall in the process. Game on!
1210. Update on the good news and the bad news; Terry Delore has made it across Cook Strait. Yay - good news! Bad news is it's still overcast and barely flyable in Taupo. Contest director says "Hurry up and Wait". Willdo.
1310. We hurried - we waited - the day is cancelled. Terry is abeam Masterton at 14000ft, so if the weather clears we may see him here yet.
1448. The (ASH 25) Eagle has landed! Terry and his co-pilot John Ahearn have landed at Centennial Park to a well-deserved round of applause. What an inspiration.
Written by: Taupo Gliding Club TGC on January 31, 2019 at 9:09 PM.
Edited by: Taupo Gliding Club TGC on February 1, 2019 at 1:56 AM.
( I believe the intention was to launch at Springfield - turn at Omarama - land at Taupo. Which he did. Rangi de Abaffy tells me that Terry offered him the P2 seat but Rangi was too committed with family duties. )
25 Years back:
A successful trip to Matamata for several members. A valiant five hours attempt over on the Ridge thwarted by an approaching line of bad weather. A C Badge flight for Graeme Eason - our AirNZ piilot member. A nice article in the the TNL Weekender followed by a wildly successful day with 32 flights. Batch Collins our first CFI was there for a flight. His experience ranged from a T31 to Mustangs and Vampires. The next Saturday was a fiasco with a moderate X-wind coupled with some instructot reluctance saw no flying until 2pm. One person flying during the month was a patient from a NP nursing home who had to be lifted in and out of the glider. He was transformed by the experience.
REpairs to the Drum culvert on the E/W runway considere to be a 'Pipe Dream' !!
Papa Mike.