May 9th 2015 & some from the 16th & 17th.
Much to everyone's surprise and relief Saturday was a usable day with a cloud street hanging out from the mountain. Tim Hardwick-Smith and Dennis Green got themselves established under it and when I arrived at the field I met a deluge of pilots (well, about three) rushing to get gliders out and down to the launch-point on 27. First away was Sam Tullett, then his father John, followed by Peter Cook in his Discus. Timing (or Tim-ing) seemed to have a lot to do with it for the WZ combo secured an hour and twenty-nine minutes, Sam got an hour six minutes, John did fifty-one minutes whilst Peter who had towed higher than anyone else got thirty-seven. He had though, achieved the best height off tow, getting to 5000ft. The wind was from the SW and the original cloud street drifted off down-wind to be replaced by another which was not as good. Tim tried his luck with the PW5 and got twenty-two minutes. Ralph Gibson the enthusiastic tow pilot and advised how that he was enjoying the Eurofox. . There was a bit of cross-wind on Saturday but not enough to inhibit the take-off runs and the landings. Our Eurofox certainly looked quite diminutive alongside the ¾ scale Mustang which was lining up to take off. That aircraft's engine noise though, was not anywhere near a ¾ sound. Lessens the impact a bit.
I think Sunday would have been a better day and it was good enough for Jim Finer who took himself off for a thrash around the circuit in the Eurofox and wants to do a few more before he tows gliders.
We've been approached by Adam Green of NZ Me The Hits who wants to do an item that links in with his radio show. Would involve a flight plus maybe an on-air interview with one of our more cogent members. He has organised a Go-Pro camera to aid the enterprise. This might happen on Sunday.
Dennis writes a "how-I-We-dunnit" account which is about time because he seems to garner extended WZ quite frequently.
Stratford
09/5/15
1000hrs
A cool breeze off the mountain, easterly, straight down 027. Thermics zero. Blue above the strip, a convergence line towards Waverley and broken cloud to the North.
Prep and D.I. WZ, while watching a convergence trying to establish close and to the North of the field. Get ourselves down to the end of the strip, hook up, time to suck it and see. We towed out with Ralph piloting TGC (mellow yellow), Tim in the seat behind me. We had a slow climb out with calls to increase speed, air a bit bouncy at times, and pinged off at 3000' over the east end of the strip. Thanks Ralph.
Poked around a bit and found good lift and in short time we had a steady climb to 4000' and base of the convergence. A run towards Pembroke gave us a steady 200ft down. Back to Midhirst and north and west to Te Popo was where the lift was. Over an hour passed running the convergence from north of Midhirst to some distance west of Te Popo and points in between. The cloud began to open up and disperse so we attempted a run towards Pembroke to try and connect with cloud which could have been useful. Just over the main road north of Stratford we hit lift and sink we could not use, nor live with, so turned for home.
Did the checks, down wind and on to the ground. One hour thirty-three minutes. Not too bad for a cold breezy day.
Well told Dennis. It was a case of being first up and best dressed. Others had varying levels of success.
I appreciate the effort people make to tell their story of the day. Makes my job much easier and adds an air of authority to the narrative.
This is a photo of Sam Tullett on short finals in the PW5 and on his way to a good cross-wind landing.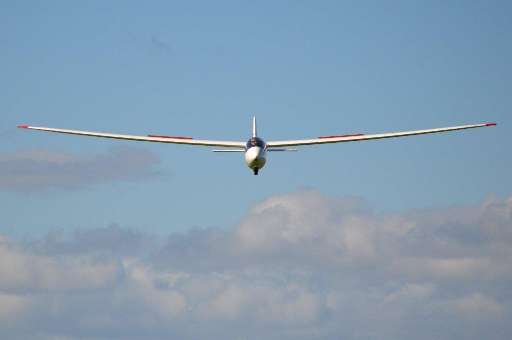 May 16th & 17th:
Lots of rain happened during the next few days and the airfield was far too wet to permit glider operations. So, Jim Finer with Tim as navigator, took the aircraft on a trip south then around the mountain as far north as the White Cliffs, having a look at airstrips as they did so and giving Jim some good air time. German Hill airfield looked wet and horrible with a crop having been fed off. Next day the Eurofox had an oil change and Tim took Peter Williams for a circuit. Peter and Glyn report that they have fixed the Astir radio problems. John Tullett busied himself bird proofing the hangar. With a bit of luck, on Wednesday, we'll be able to host a local radio station announcer for a flight as part of their "You can do it" programme which refers to not having lost old skills over the years.
Papa Mike.