Recent News March 2017: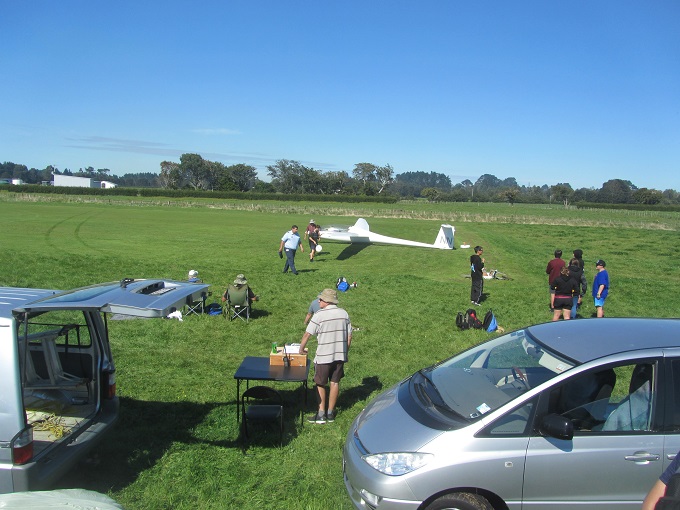 Glyn Jackson got this photo of the launch-point activity. John Spence by the time-sheet desk.
March 1st: A mid-week day exploited by Will Hopkirk achieving 1hr 30m in the PW5. Not sure where he went but must have been using a convergence line. No one there to bother him.
The evening emails -
Peter:- I believe there was flying yesterday – I saw the wheel marks – whoever has the time-sheet please send it to me please.
Tim - Can't get away with anything! There is a timesheet in the box in the hangar – there was only one flight, I towed Will in TE, and needs the land time filling in.
March 5th: A mid-week day for John Spence ( 2hrs 22m in TE ) and for Will Hopkirk with Dennis Green in WZ). Comfortably by themselves.
March 16th: A series of sled rides for everyone. Another solo for Dennis and John Spence did the best with 24m in the Janus. Would have done better if he'd stayed with the power station thermal. Andrew Berry has now joined the tow pilot ranks and most welcome too. Six tows for the day and John Spence owns up ..... I took the higher tow just to see what was around. Power Stn gave us a kick on take off, but what I did find at 2,000' was a band of absolutely smooth air, like wave, over the golf course with 1/2 to 1 knot of lift. I wish I'd persisted with it but I headed to down wind of the power stn and received sink for my endeavours. What lift there was, was broken and hard to centre into.
Sunday 19th:; A big day today with 18 cadets from the New Plymouth No. 8 ATC Squadron having flights. One of the Mums helping was given a courtesy flight. Looking at the timesheet things went well with tows to 1500ft and flight times of about 12m for each. Tim went AWOL in the Discus for about 1hr 39m and went three times around the mountain during that time. After the cadets had departed Glyn Jackson and Peter Williams were away in the Janus for 1hr 16m. Another solo for Dennis, 37m for John Spence and 48m for Les Sharp in the PW5. John Tullett managed a quick 18m in the Discus. For all it was a nice way to wind down from a busy day – 25 flights and Andrew Berry did 20 tows.
Les says how things went ......A reasonably good flight under a convergence to the north of the field. Cloudbase was about 3800' and it extended quite a way east but avoided that to stay out of controlled airspace. Couldn't seem to make it to the park boundary either. Eventually got down to 3500' and followed NN out to a cloud near Midhurst, but was too low to get a climb there, so I carefully worked back to the field trying anything that looked like lift on the way, but only managed to counter the sinky bits I had flown through.
25 Years Back:
A memorable trip to Matamata for the club. Highlights were - thermals to more than 5000ft - more than three gliders on the grid - and the hospitality. First solos for Ian Hayton and Angela Rowe - half hour flights for them, Matthew Connor and Allan Thatcher.. Silver gains for Angela & Ian. Peter Miller's car alternator caused him much anguish, ending up with the car stalling with the Blanik on its trailer, on the forecourt of the garage at the foot of the Te Kuiti hill. Peter and John Spence had to overnight in Te Kuiti before returning home the next day. ATC flying to happen during February.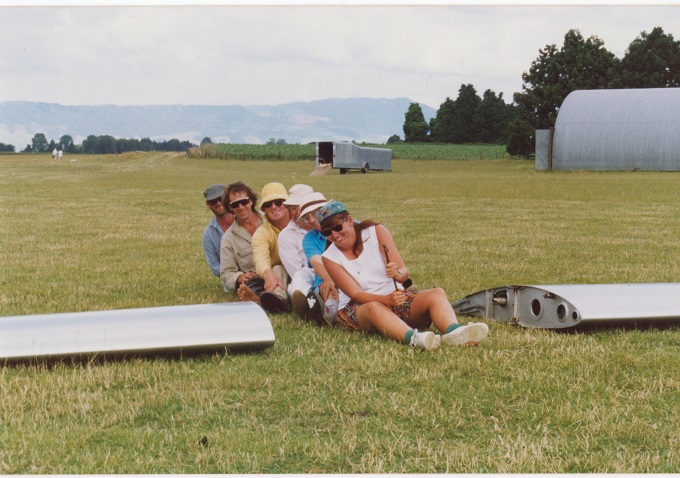 The photo was entitled " Have they blown a fuse? " The Taranaki Gliding Club leaves Matamata after the 1992 Camp Front to back - Angela Rowe, John Spence, Bob Struthers, Peter Miller, Ian Hayton, Allan Thatcher.
Louis Trichard & family move to Australia. ATC flying in March at Hawera. 124 flights for the Blaniks during February, more than half of those during and ATC weekend - the weather must have been good. A new raffle starting. Angela Rowe returns to England.
The club took awhile to get used to using radios during the circuit as the following account indicates -
Venerable instructor: " … Err … German Hill Traffic … this is Glider Juliet Bravo … errr … downwind …. for … ??? … the field!!
Second instructor: " How come you're in Juliet Bravo? I am!! "
Venerable instructor: " Oh! So you are!! … Ha! Ha! Ha! "
Radio transmissions have improved over the years since then.
Papa Mike:
More ATC flying planned for April. And another instructors meeting by video loop.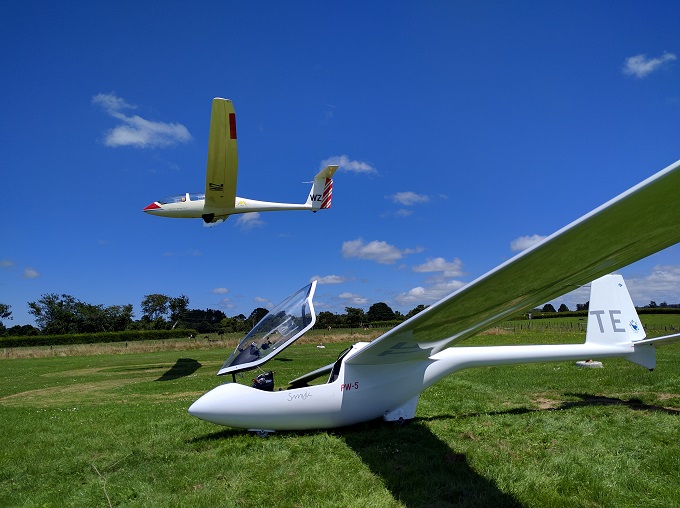 Dougal Wickham took this photo of WZ on late finals at Stratford, January 2016.