26th October 2015
Les Sharp provides his take on the day's activities. - Apparently, Tim had phoned home to advise that there wouldn't be any flying, but I was almost at the field and being followed closely by Dougal Wickham. The cloud base certainly appeared to be at about circuit height and there was lots of it. This didn't detract from the possibility of furthering Dougal's experience in the circuit so WZ and TGC were DI'd and got ready. I was tow pilot and Tim instructed. After Dougal had done four flights, Peter Williams was prompted to have a go in view of the visibly improving sky. Peter possibly economised on the tow and ended up so close in the circuit that I got out of the way to let him land in consid-eration of the tug circuit being wider than that of the glider and my having got a bit too low at the end of the base leg. Then it was my turn. A 1500ft tow north of the field got me to cloud base,but I too was soon back on the field. The cloud south of the field looked a bit like a convergence line in places and although it was downwind, I had another attempt and got off tow in lift over the southern end of Stratford township at 2800ft. After exploring the fairly confused cloud pattern I got up to around 3500ft, couldn't find the lift to the west, so headed east trying to stay at cloudbase, but avoid getting sucked up into it where there was stronger lift. After about 30 minutes drizzle appeared and although I tried repositioning I could see mistiness under the whole cloud system. I thought that it might be working nearer the northern edge, but as I headed that way there was a loud splattering sound as serious rain fell upon the glider. The second brief shower also provided a bit more sink, so bearing in mind that the airfield was upwind I increased speed to about 75 knots and got back with enough height to try and stay airborne in some weak lift near the power station (with the wheel already down), but hadn't centred in it so it was into the circuit.
Tim decided to show Dougal how it was done, so I became a tow pilot again, however, they didn't manage to stay up as the system was still providing an airborne glider wash. Later on the dirty stuff had moved east and a better defined looking convergence had re-established. Peter Cook launched in YT with Tim towing and he also managed a soaring flight.
Trying the convergence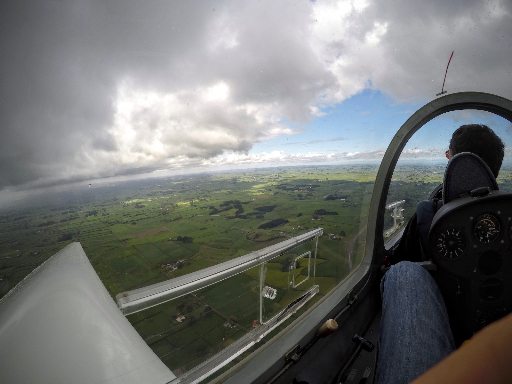 Now for some terse comments from Peter Cook:-
YT (his Discus} did 53mins. Rough convergence, lots of up and down, just Toko-Midhirst area.
That was from them and now from me.
Peter is off to the Central Plateau Competition starting Sunday. I understand that Glyn Jackson and his Ventus are in the mix as well. Sam Tullett is heading down south for the Junior pilots gathering at Omarama during early December. Glyn Jackson and family headed for Matamata during the long weekend. Apparently, conditions not all that good, gliders falling out of thermals Very bad of the thermals!! A young Swiss pilot though, showed how it was done by turning in a good flight on the Monday.
Good luck to the lot of them. Ralph Gibson has advised of his intention to relinquish his role as a tow pilot. Thanks for all that you have done Ralph. We will miss your cheery outlook on things that made the day go so much better.
Regarding the flying at Stratford on Monday, it was good that flying happened, for it showed that a useful amount of flying could happen and it did.
Papa Mike.