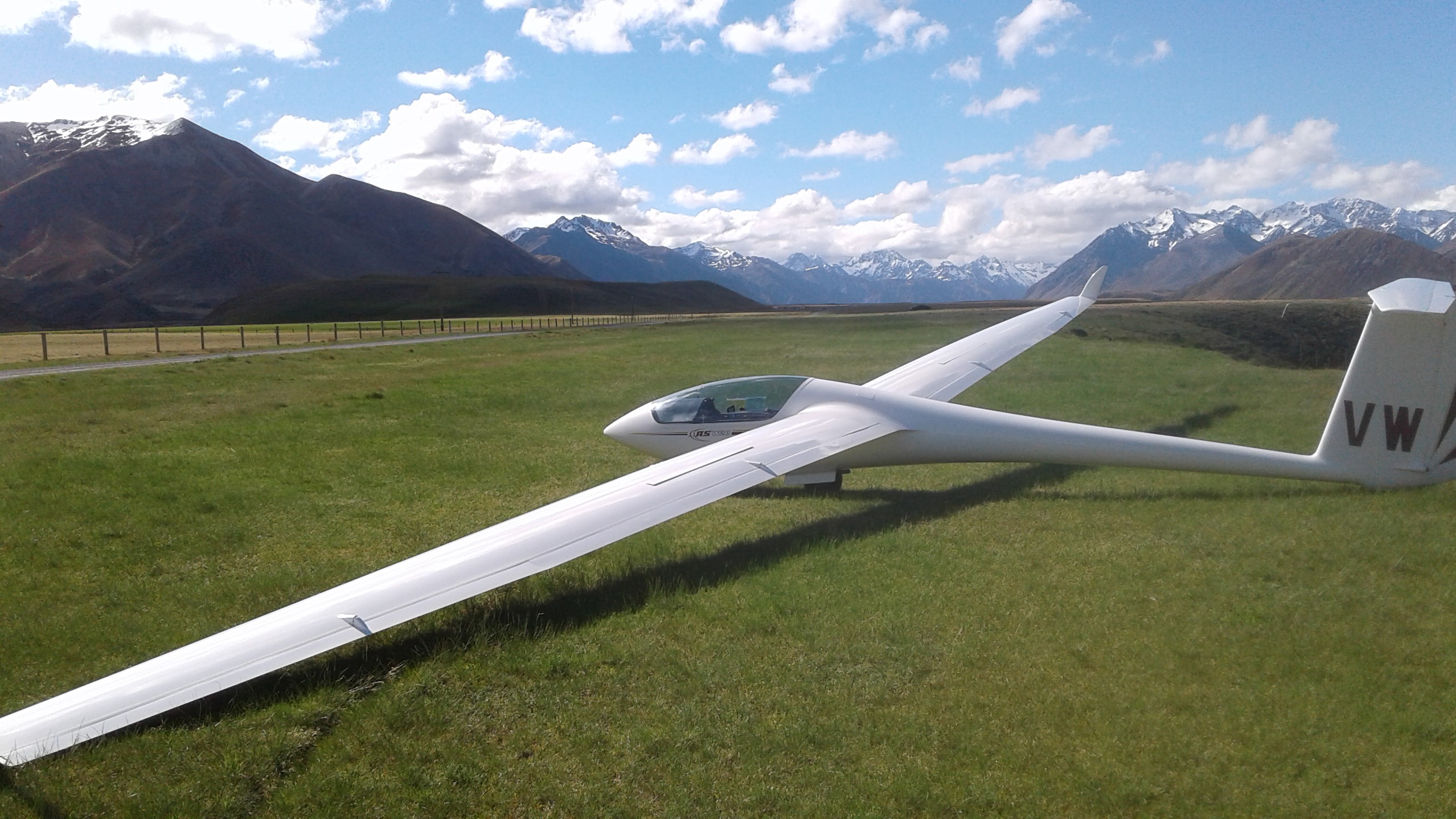 Les Sharp's landout at the Longslip Airstrip in the Ahuriri Valley
Not a very busy November at Stratford for the Taranaki Gliding Club.
Four flights on the 17th. 2hrs 10m for Tim in the Diiscus XC. Don't know where he went. An hour seventeen minutes for Peter Cook and John Spence in the Janus NN. Fairly local I believe. Then 47min for Nathan Whittleston in the Janus with Peter Cook who probably likes the Janus quite a lot by now.
Only one flight on the 23rd. Admittedly it was a Friday. Tim and Will Hokirk shared the Janus for this one. 2hrs and 35m. Hopefully Will is going to write a story about this and a photo or two.
No Youthglide Camp at Stratford this year. Last year's one was a great success with a lot of determined hard work by our instructors. Three of the participants are still with us this year and actively flying and Liam Finer is now on the Club Committee thus reducing the average age by quite a bit. Welcome Liam !
Club members entered in two Contests during the month. Tim Hardwick-Smith and Peter Cook entered the Central Plateau Contest where they had a challenging but enjoyable time. Tim placed 6th and Peter was 8th. The Contest won by Michael Strathern, flying his K6E which was the only wooden glider in the contest.. Then down in the South Island, Les Sharp took part in Jerry O'Neill's X-Country course, enjoying some great flying with Phillip Plane. Then, following that example he set about doing his Silver Distance by using a Remote Start which he successfully completed. He reported thus:
13th November: CONGRATULATIONS LES !!
Its possible that I did my 50km yesterday if all the rules have been followed. I got out to 50.6km from the release point but I flew about 170km to do it. (check OLC to see the log). After I landed I retrieved Glyn from the Merrivale airstrip.
No flying today, conditions turned out to be quite weak locally and the tasks were shortened. Then when Grae Harrison and Keith Essex were sent up on snifter flights to different sides of Horrible and didn't find much it was decided to cancel the day. My claim for a 50km flight (50.91km) .has been submitted.
In reply to a question….
My Silver Height done 9th Nov. 1986, 5 hours done 4th March 1990. I might be able to claim a record for the slowest Silver Badge in NZ.
Whilst Les was doing his post-course stirring exploits, Glyn Jackson was taking part in the South Island Regionals. Some challenging flying for him. He came 10th in the Racing Cless which was was won by David Jensen.from the Piako Club.