.
Its character building (no pun intended) stuff adding material to the News Page. A couple of days ago I'd completed the first part of this Page but left it too long before hitting "Save Changes). Bad move, or lack of it for the website had timed out and I lost all that had been written. Now this is the August Recent News and I thought I would construct as time went by - as a sort of String narrative which can be quite fun. Latterly I'd done the same for friends and relatives of a brother-in-law who was rather unwell and had open heart surgery in Waikato Hospital. Though the episode was not much fun for him, informing people of his progress was good to do and I leavened it with daily happenings of my own family. The effort was well received.
Following the saga of the July wave flight, August 4th was small beer but had importance for the pilots that flew. Dennis Green had a short flight in the PW5 and made himself current again. Glyn Jackson towed Les Sharp aloft and here is his story..
Today we rigged TE and VW. Dennis flew TE, he might tell you about it if you ask, but it wont take him long! I towed higher, the original intention was to try some spins, but the cloud near the mountain looked tempting so towed to 5000 feet just west of York Rd quarry. It looked better than it was and although I managed a turn in lift over the quarry on the way back it was mostly not enough to stay up in. Managed about 5 minutes and actually climbed about 200 feet in a thermal off the power station which stretched the flight out to 39 minutes.
After that Nathan Whittleston came with me in TGC for a look at some airstrips, with Glyn leading the way.
Les Sharp
Then a week later John Spence having jetted in from Canada returned to the sky in the Janus NN with Tim Hardwick-Smith who'd also been to Canada. Tim had been most impressed by the Cu-filled shies over the Canadian prairies. John has a bit to say before writers cramp got the better of him...
Winter thermals ( not many ) as forecast 2 --4 knots. 'Twas great. ( But they were away for 46 minutes. - Ed.)
John Spence.
Then Tim got into the towplane and towed Les off...
Today, first up was NN with Tim Hardwick-Smith and John Spence. They managed to stay up okay for a while.I got VW out and Tim towed me. Took a high tow over the North Egmont visitor centre, but couldn't locate enough lift to remain over the bush, so tracked back towards the airfield working some weak lift on the way. Nothing seemed to result in a significant height gain. I did manage about 5 minutes maintaining height about a mile north-west of the field, but gravity got the better of that too.
Les Sharp.
43 minutes for Les. Good enough at this time of the year. If I had had he time to look, I might have seen the Flarm markers for TE and NN. We have one of the ground stations working - not sure why the second at Kaimata is down. Following all that, Les took Nathan Whittleston on an airstrip location and inspection execise.
August 11th saw a test flight for the Janus by Tim Hardwick-Smith, then he and John Spence towed to 2200ft and had a local stooge around for 47 minutes. Les Sharp in his ASW20 towed all the way toward Nth Egmont, releasing at 4000ft then wandered back to the field for flight time of 43 minutes.
The next useful day was August 26th. The Club Captain had advised that 8000ft tows on the previous day for anyone that wanted a wave flight. No takers but the fettling finished on the Twin Astir and the radio apparently does now work. Peter Cook in his Discus and Peter Williams in his K6e both broke their winter blues by good flights. Peter Cook's tour story follows below.
A two hour drift around the Stratfordf area, YorkRoad, Tariki and a bit short of Toko. After a few soggy months off, a pleasant weak 1 to 4kt to 4000'ft. Good rigging and thermallling practice for the two Peter's, (Cook &Williams) who are now ready to rip into the season. Tim was there,thankfully, to tow and Matt Conner turned up to look caiming refugee status and was promptly enlisted to run wings. Glyn took wee son Charlie for a ride in his microlite.
Peter Cook.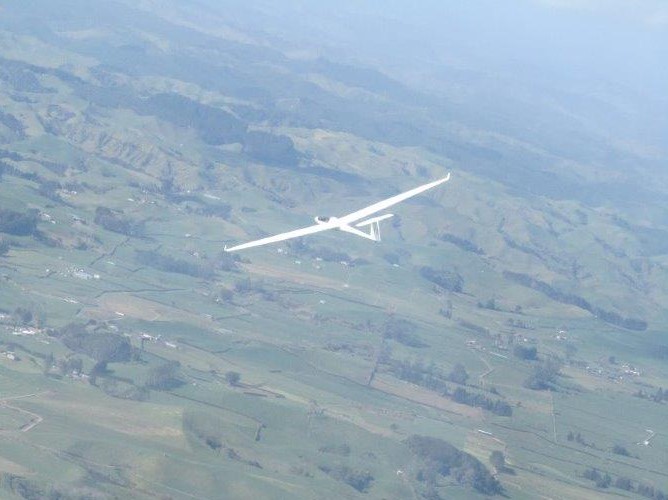 Peter Cook and Discus, drifting over Stratford farmland.
Peter Williams also had a good flight and here is his explanation of howhedunnit.
On Saturday 25 August I received a text from Peter Cook that we should meet up on Sunday to rig our gliders GGH and GYT. Peter C had teed up with Tim for a tow after lunch just in case conditions were ok.
Sunday morning in Hawera was overcast, and didn't look very promising. However north of Eltham there were blue skies. We rigged after a few teething problems, and were finished around midday. DI'ed, had a quick bite to eat, and were ready to go. By this time there was cloud down south by Eltham and a few patchy clouds around the field. I launched at 1245, with Peter C launching about 1310. I went through some good thermals on tow, peaking at ten knots at times. I took a tow to 3,500ft which was just above cloud base. I had not flown for a few months, so I wasn't going to miss out on a decent flight.
I stayed mainly around the field working the north side of the cloud street that had moved up from the south. The Power Station was not operating, but I was getting lift from it. There were good thermals directly over the field, and I had a 1,000 foot climb at one stage. Meanwhile, Peter C had disappeared out Toko way, and was getting good climbs in the cloud street over Stratford. After Peter sorted out his radio problems, I felt a bit safer as we were flying up the side of the cloud street. Peter flew up to the mountain bush-line around York road quarry, and on towards Tariki, topping out at 4,000 feet.
It turned out to be a great day for August. We both had flights just over two hours. I finished with some chandelle's over the field to lose some height, landing on 34 at 1450 hrs. I was glad Peter made the call to rig. We made the best of the opportunity.
Peter Williams.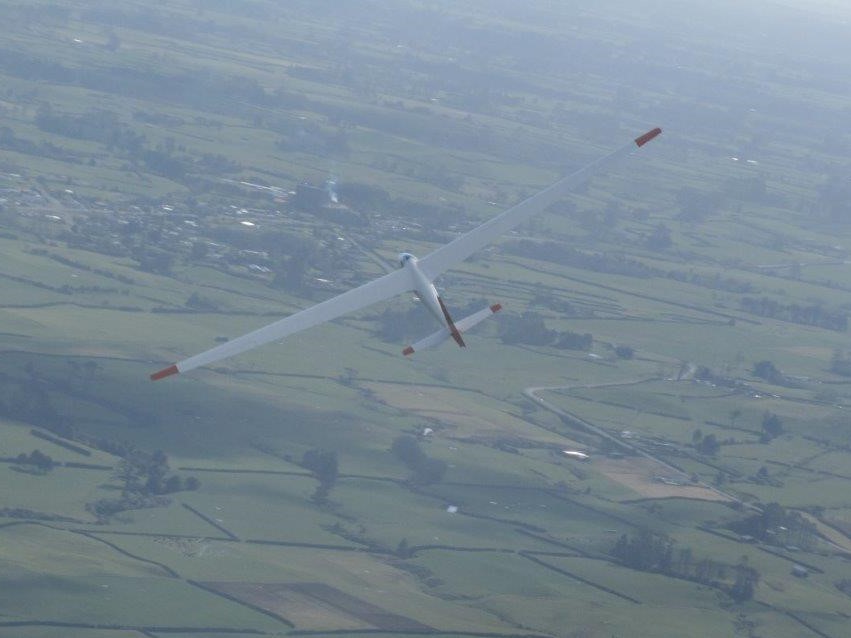 Peter Williams soaring: At peace and with tranquility. Both photos by Glyn Jackson.
....................................................................
Peter is one of our quieter members, he is a very good pilot and has been busy with the quill. He submitted the following poem.
WHITE FLIGHT
Sitting in my white winged sailplane
I longed to feel the surges of up-draught
of warm rising air that would keep me afloat
while I soar like a Harrier hawk
who has been practicing since he could talk.
The tow-plane gathers speed with me in tow
heading for those white cumulus clouds yonder.
Soon I will be up there to share their space.
The tow-plane parts and I am left alone
in peace and tranquillity under the sun.
With the grace of that hawk, we begin to soar
in those gentle swirling uplifting thermals,
gathering height, circling round and round.
Now I know how Leo Da Vinci felt all those many years ago.
Dreaming what birds take for granted,
Now it's my turn to taste that wonder
to soar in our Creator's playground.
PW.
..........................................
A thoughtful re-possession and expression of the term, hinting at his feelings about the spiritual essence of soaring.
Papa Mike