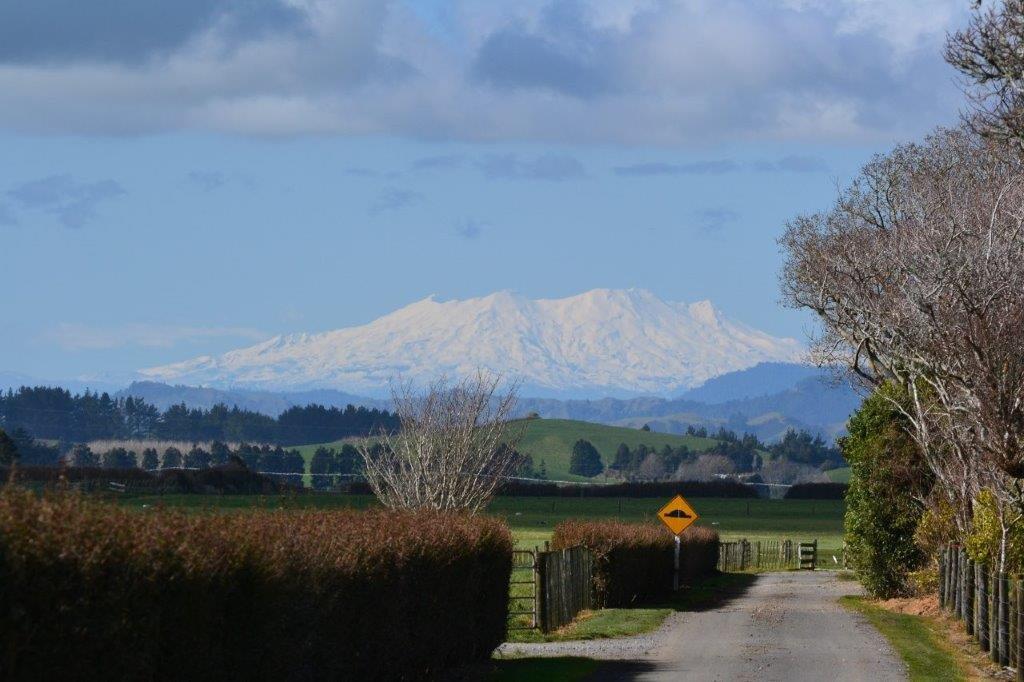 The central mountains from the airfield entrance.
Recent News. August 23rd 2016
I'm a bit of a worry I suppose but there has not been a lot of material screaming at me waiting to be written. That is a bit of a lie really because a lot of work happened during May when Mike Strathern undertook a substantial rebuild of the Twin Astir's airbrakes and stitched work on all the other aircraft in and around that task. Not only that, purchase details were completed with the Tauranga club and Tim Hardwick-Smith with Glyn Jackson headed off to Tauranga to aerotow the Janus NN back to Stratford. Tim lamenting the absence of a heater in the glider but you can't have everything I suppose. Two days flying over the next two days plus another day and that was it until August. Things were absolutely far too pluvial and consequently the airfield far too wet. During the Strathern Herculean effort, a new tyre was obtained for the Astir and a spring installed to give the Janus flap lever a positive lock in position. This prompted by the lever popping out of the detente notch when on tow. All good, ready for flying. Ten flights & 2hrs 7m for the Janus on July 10th and that was it. It rained and kept on raining.
Not until August 14th did was the airfield able to tolerate flying activity. Three flights for TE. John Spence Les Sharp over the hour and 29m for Dougal Wickham. A mid-week endeavour saw Tim Hardwick-Smith and Will Hopkirk just over the hour in NN and 48 minutes for John Spence in TE. Then there was August 20th with 14 flights and some good ones too. Though there was a reasonable amount of cloud cover, there was abundant lift to be had. An hour for Dougal Wickham in TE and later, two shorter flights. John Spence swallowed his pride, grabbed the Twin Astir WZ for its first club outing since the winter work and wangled two hours 17m and a later flight with Tim in NN of 54m. Will Hopkirk flew TE for an hour 20m whilst Tim and Steve Barham had an hour 19m in NN. Les Sharp took his brother Brian for a flight in WZ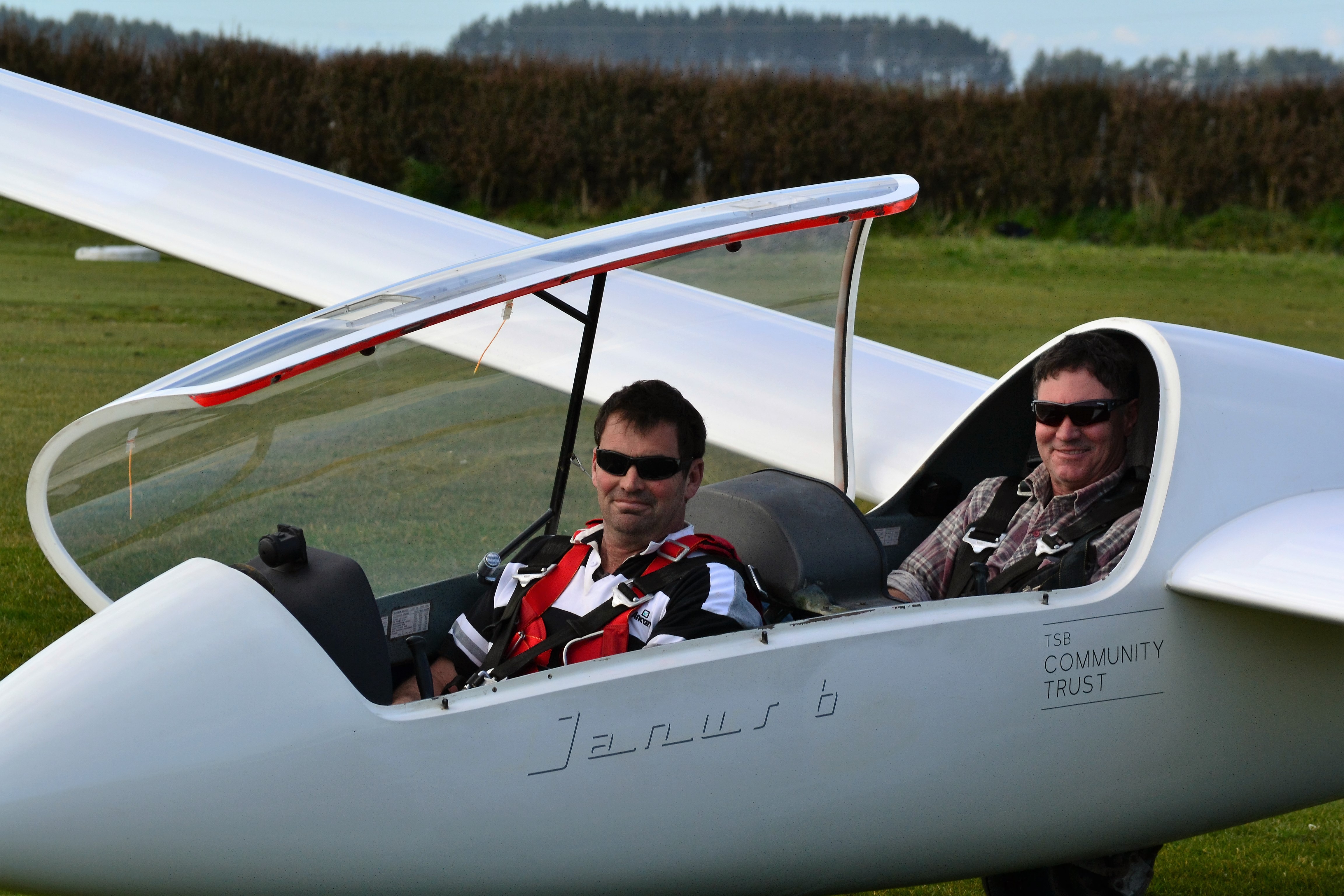 Will Hopkirk and Tim Hardwick-Smith prior to their flight.
I persuaded John to explain truthfully how his flight went:-
AN ASTIR-ING TALE:
Saturday 20th August looked as though it was going to be a mighty day for soaring, with early signs of cumulus piling up on the eastern slopes of Mt Egmont at around 6,000 ft.With Tim in the Janus on Instructor training duty and Dougal in the PW5, the Twin Astir looked as though it needed an airing to blow out any remaining dust from the brake repairs and an airing it duly received.
Took a 2,000 ft tow, released in good lift and spent the first hour a couple of miles west of the main road and Stratford township but was unable to climb high enough to make a dash for the bush line and obviously better conditions. At one stage I heard Dougal reporting that he was at 5,900 ft and thought 'wow'! but kept slowly climbing in the thermal I'd latched onto which I lost at around 4,500 ft.
Thoughts of cycling thermals and with increasing sink evident prompted a return back east closer to the field and at 2,300 ft between the golf course and power station the air became alive again and a 5kt climb to 4,500 ft achieved, headed south west of Stratford without losing much height, contacted another boomer and climbed another thousand feet. There now seemed to be an endless supply of thermals rising from the town, so there was no need at that stage to venture further.
The dreaded dong dong dong of the vario eventually forced us into the circuit after an enjoyable 2 hr 17 min jaunt. An hour after landing, a seat in the Janus became available so I took Tim in the back and we soared the power station thermal up to 4,500 ft for 54 min. What a dream ship to fly after the Astir, I want one. Ha ha. Just over 3 hours logged for the day, can't be all that bad for gliding in August in Taranaki. Roll on summer!
John Spence.
The next day wasn't too bad either really. It looked magnificent from New Plymouth but that wasn't Stratford. High tows were the order of the day. John Tullett went to 4200ft before release, then proceeded to lose most of it before getting a thermal out over the mountain slopes to over 6000ft. Here is his explanation –
A K6 Flight:
After Saturdays good flying, the forecast for Sunday was not so good. Only a few members were expected to turn up but our CFI / tow pilot pointed out that the mountain was looking good. He just wanted to take a Ka6 on a long tow. We readied EH and went to the mountain. A high tow, and no lift, so a meander back to the edge of the field. Then a thermal, then another and a slow working northwards, into the wind, then west towards the mountain. A very strong lift source at the North Egmont Visitor Centre, a tootle along the Pouakai Range, some slope soaring on the Mountain, then a nice leisurely glide back to Stratford. A great August flight, two and a half hours in the log book, and the promise of an excellent summer of soaring.
Johnt.
Glyn Jackson took young Connor Johnson for 45m in NN. So impressed was Connor that he is about to join as a new member. Eleanor Gilbert has already done so. Welcome to you both. Tim and Peter Williams away for one hour 20m in NN then John Tullett had his turn in the Janus whilst Peter Cook made do with 27m in TE and Tim Hardwick-Smith the same time in JT's K6.
A rather good weekend.
Papa Mike.
25 Years Back:
I posted the wrong item for this feature. Here is the August 1991 account.............
Maintenance work on the hangar, the clubhouse and the Astir trailer.
The trim wires freed-up on the Blanik JB and a new rear seat altimeter fitted.
The club received a bill from Auckland International Airport for a landing by the Blanik IS.
Matt Connor to become a tow-pilot.
Kevin Koch does his first solo in July
A nice story from Alister Duncan - Alister Duncan. 1989
In the Janus at 6000ft, Steve Barham keeps a good lokout.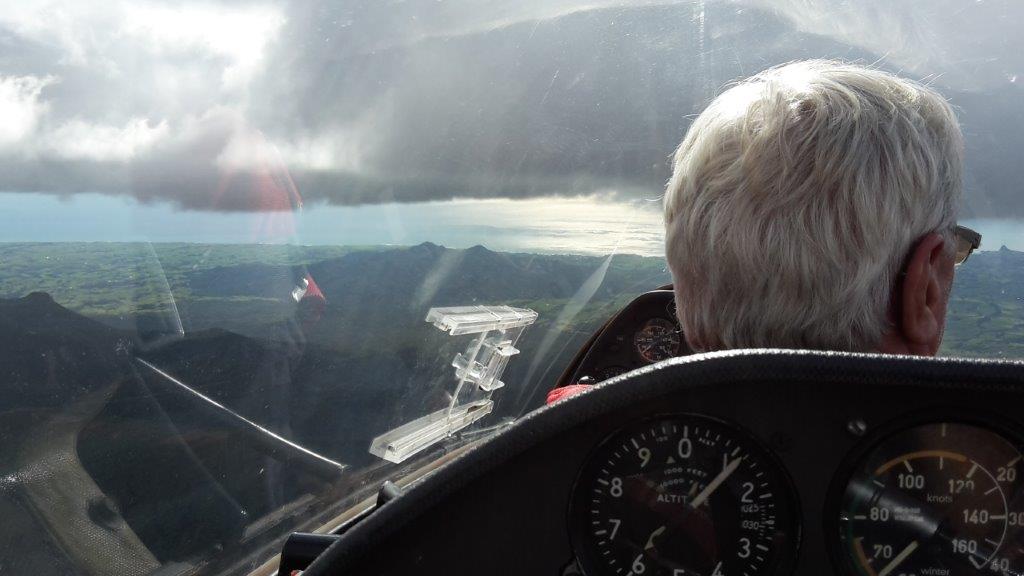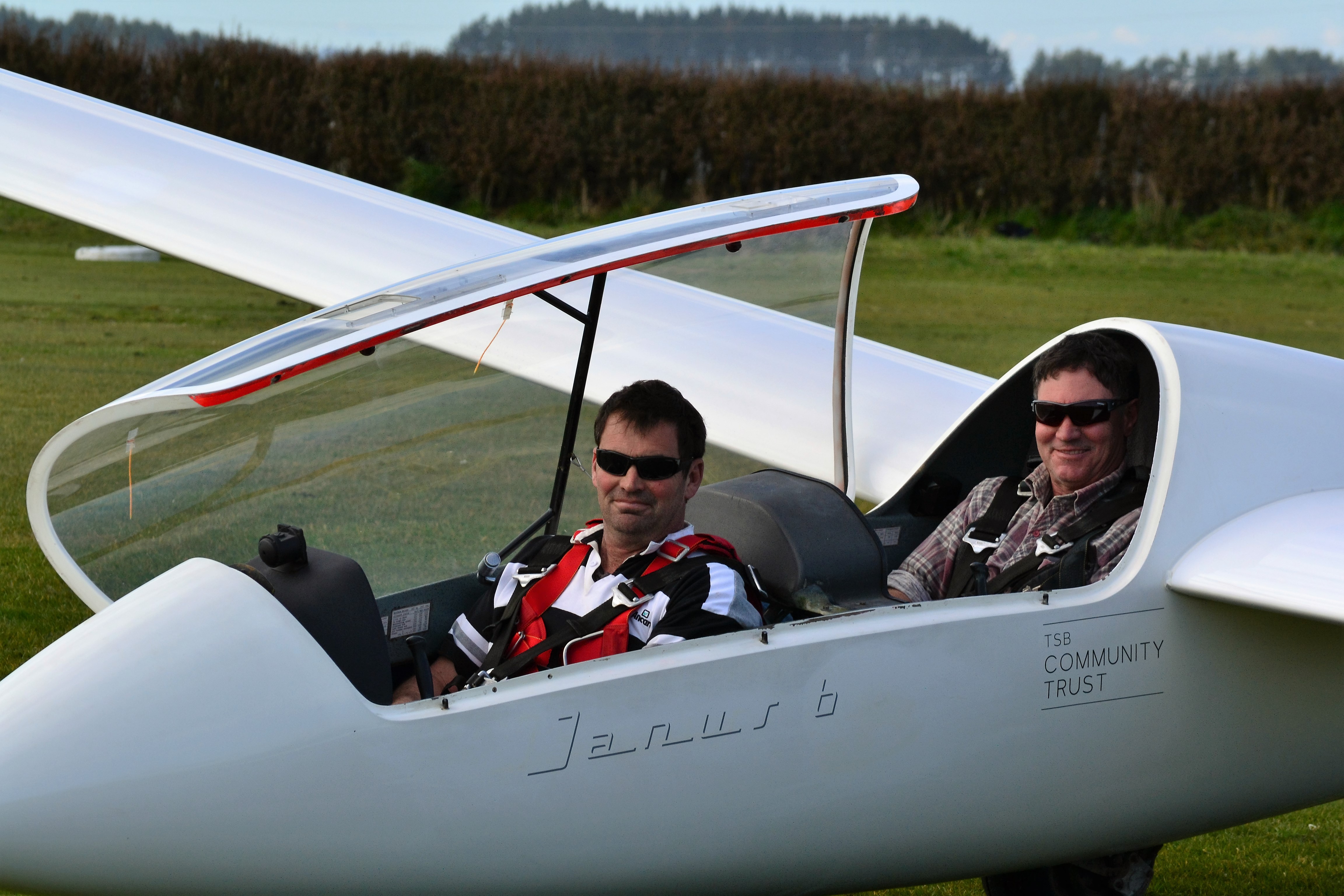 Will Hopkirk & Tim Hardwick-Smith nearly ready to go.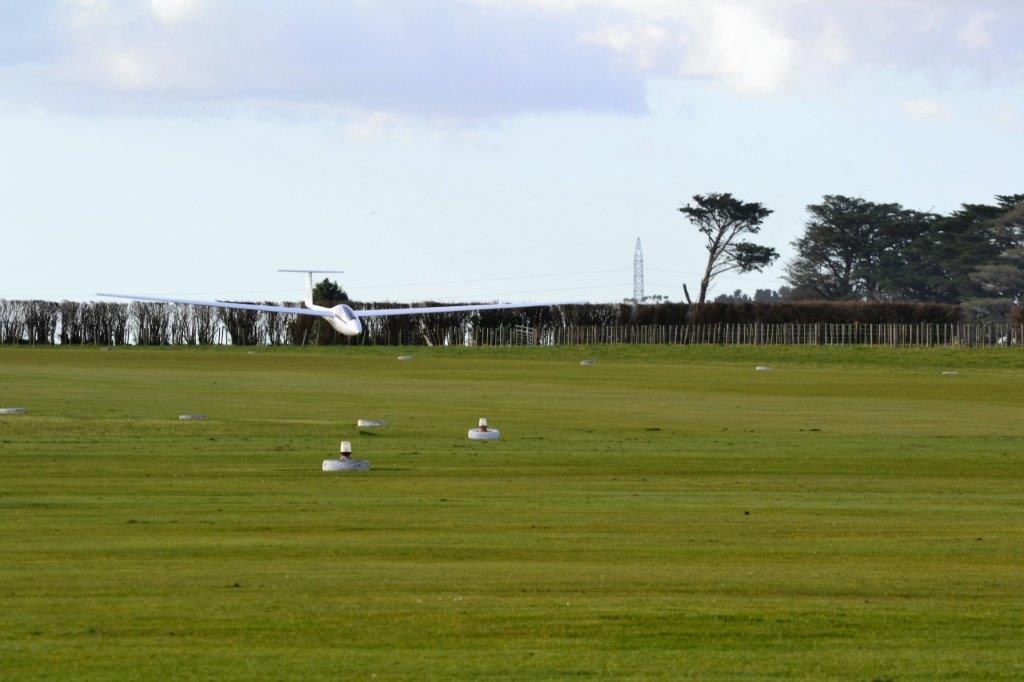 Tim about to touchdown on 16.