January 6th, 14th & 17th 2016.
Starting with the 6th, four glider pilots there for the day. Glyn Jackson rushed down, did the towing and rushed back to work. Forty-eight minutes for John Tullett and Dennis Green, fifty-seven minutes for Dougal Wickham and fifty-nine minutes for John Spence and John Tullett. The day obviously worth the effort.
The 14th was a reasonable day with most flights averaging better than 30min. Dennis Green enjoyed a couple of good flights with Les Sharp and Les and John Spence shared another. The inimitable John Tullett and his trusty Rhonadler had the best flight of one hour and twenty-four minutes, eclipsing Dougal Wickham's best of forty-one minutes. It was "hard work" he said. Sam Tullett briefed by Glyn, went off and made a 'paddock' landing in the grass area out in front of the hangars. This is an area where a conceptual cluster of conceptual hangars will be built. The "paddock' should last for a while. There were nine flights for the day.
Sunday 17th was a difficult day for those wanting to fly. Glyn got two and a half hours in his Ventus though I don't know where he went or how high he got. The day's Trial Flighter was Richard Woofindin who enjoyed a twenty-five minute flight with Peter Cook. Richard is the son of Joanne Woofindin, a long-time stalwart of the New Plymouth ATC Squadron. An hour and ten minutes from two flights for Dougal in the PW5 and a flight for John Spence with Peter. Five flights for the weekend's flying. Les on towing duties.
With the aero club running an open day on Saturday, Sunday is the definitive day for club flying. Good luck to Peter Cook who has hived off to Taupo for the Nationals which begin on Monday. The latter part of next week look a bit gruesome weather-wise. Hopefully the second week will be better.
Papa Mike.
Sam on short finals.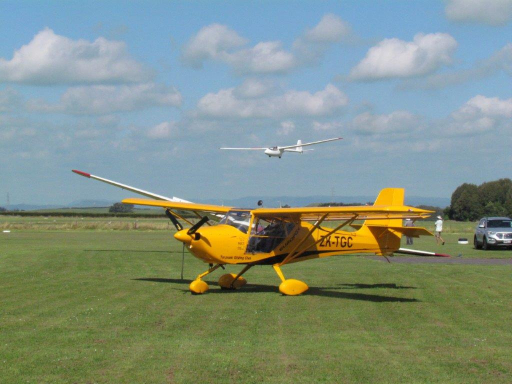 Photo by Nick Furmage.