October 20th:
I'd made a good start to compiling this Recent News edition but a gremlin struck and I lost my copy so here we go again. No flying in September and so far two days in October and I delayed completing this until after the next weekend. On October 14th there were three flights for the PW5 with Peter Cook, Tim Hardwick-Smith and Les Sharp who then wheeled his ASW20 out and had flight of just over the hour. Peter Cook and Tim then consoled themselves with a tiki-tour around some airstrips in TGC. On the 19th a mid-week effort saw the Janus out and about. Just over the hour for Tim and shorter flights for Les, Dennis Green and Glyn Jackson. Within this there were a couple of Biennial Flight Reviews for Les & Glyn. The field is apparently dry enough to cater for the Janus. We have had a prodigious amount of rain during the winter and early spring but things are getting better slowly.
Well, if you wait long enough, things are bound to happen. Five flying days in November to date and more fine weather for a while yet.
Starting with November the 4th. It was that, a start, with Glyn Jackson and Dennis Green trying out some thoughts on wave flying in a SW airflow. Apparently like flying in a washing machine with no water, more travail than avail. An hour and six minutes. There were no takers for more flights that day.
On the 12th it was an NN day, 1hr 32min from 4 flights. Les Sharp hauled his ASW20 - VW onto the line, launched and was rewarded by a 1hr 8min flight. He has provided us with a howidunnit account as follows –
The day didn't look too promising earlier and I managed to use my line trimmer to clean up around our hangar before the decision was made to fly.
Launching off 16 was easy, and I towed to 3500' near Stratford town. Released into some zero sink that didn't last and finally found lift just west of the airfield. It was thermal that was being blown along with the wind, however I was managing to fly some reasonable circles while drifting downwind and climbed to where it felt safe to venture upwind a bit. Some of the lift was below the clouds, but some of these also dissipated quite soon after I got under them. I spotted NN to the south near Eltham, although it was lower than me, and trying to move upwind caused fairly rapid anti-clockwise movement on the altimeter. I did manage 4000' indicated at one time, and had some brief climbs flying straight into wind, but it was mainly a case of working to stay airborne. All told it was good practice for getting to know VW better.
The next day was November the 15th. A couple of check flights for Dennis Green in WZ. Which aircraft he then made a creditable 1hr 11min. Will Hopkirk showed up for a 40min flight in TE. Flew all around the place he did, showing that flying straight is more productive than continually flying in circles. An interesting back story to his day went like this – in the morning out at Te Wera briefing a helicopter pilot on where to work. They hit one or two good thermals. Too much for Will who expressed the wish that he would rather be flying a glider but that he had more farm work to do. The helicopter pilot said "Go gliding". So he did. Flew everywhere, landed and rushed back home for his daughter's 16th birthday party. Very intrepid is our Mr Hopkirk. Peter Williams had a well-deserved flight in NN with Tim. They made just four minutes under the two hours. They also covered a lot of ground, the cloud-street convergence line extending out past Toko. Les Sharp also launched in VW and racked up an hour and fifty-two minutes. Some more words from Les –
A good looking afternoon sky prompted action with all the club's gliders and GVW. I took a 2000' tow to the west and struggled a bit to find lift, but once I did it was good and it wasn't long before I was working towards the National Park and trying to avoid controlled airspace. I crossed the park boundary at about 5000' but found no significant lift so tracked to the south a bit and thought I had located a thermal over the Stratford plateau carpark but couldn't hold the centre. I was down to 4500', the proximity of the terrain doesn't produce any desire to be any lower, so it was back to the boundary to try my luck under the edge of some clouds north of the York Rd quarry but only managed to lose more height so tracked towards the dark stuff over the northern edge of Stratford township. Down to around 2800' at this point before locating weak lift that quickly strengthened to about 3 to 4 knots while I tracked east along the edge of the convergence and by the time I was overhead Gane's strip I was at about 5000' again. There were promising looking clouds everywhere, not all working, but I gradually made my way to Strathmore and spent some time in the area getting back to around 5000' then ventured out overhead TeWera.
I could see a Cessna that was doing a low level Navex well below me and at one point I saw a helo tracking to Eltham to the west and below me. Again I started to get a bit low, although the Oudie always showed that I still had a final Glide on Stratford. The lift was getting weaker so I headed back carefully and did try to get back under the main convergence which had moved to the south but only managed to find zero sink, so I returned to the airfield and landed after 1hour 52 minutes.
Thanks to Ralph Gibson arriving (much appreciated), I didn't have to put on my towing cap and was able enjoy some more of getting to know VW.
Great stuff Les, so far you were the only P/O venturing out and trying your luck.
In early November Lynn & I were in Greytown for a family gathering so naturally enough, gravitating down to the GreytownSoaring Centre at Papawai was no problem at all. A fresh westerly saw them winching from the new cross strip. Was in time to see the venerable K13 FN launch and then land. It was in this glider in the autumn of 1967 that a bunch of wide-eyed Taranaki glider pilots were treated to their first thermal flights from the Waharoa airfield at Matamata. No further flights for FN after this launch for it was towed away and hangared. Condition were getting too rough but the DG 1000 went on to have a good wave flight. There was wave on the Sunday as well and a good long flight for Tony van Dyk.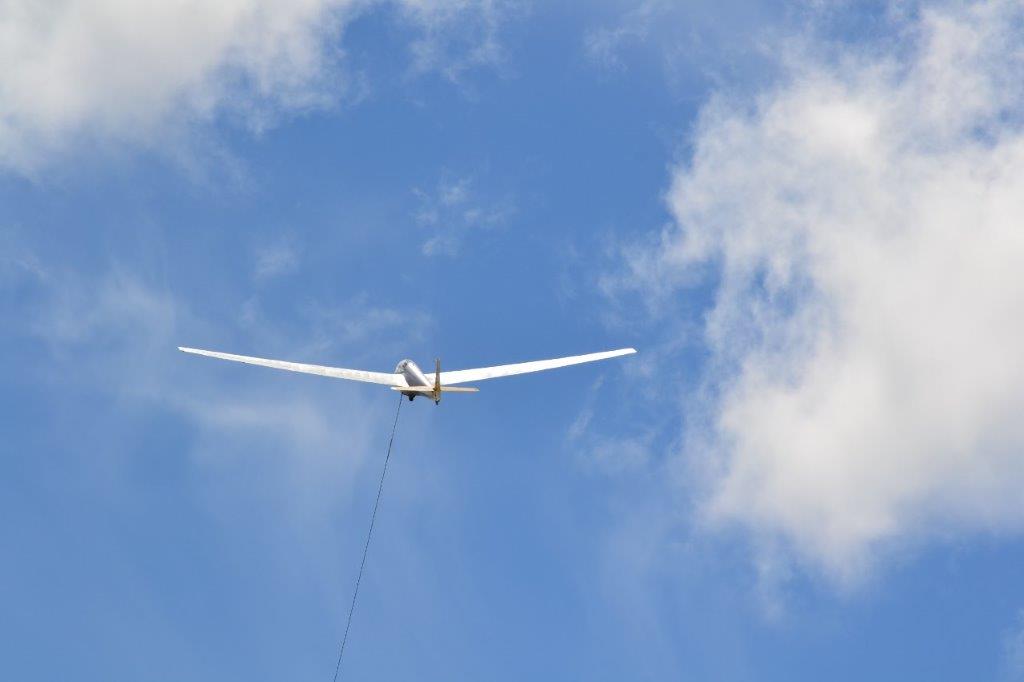 FN going up on the cable at Papawai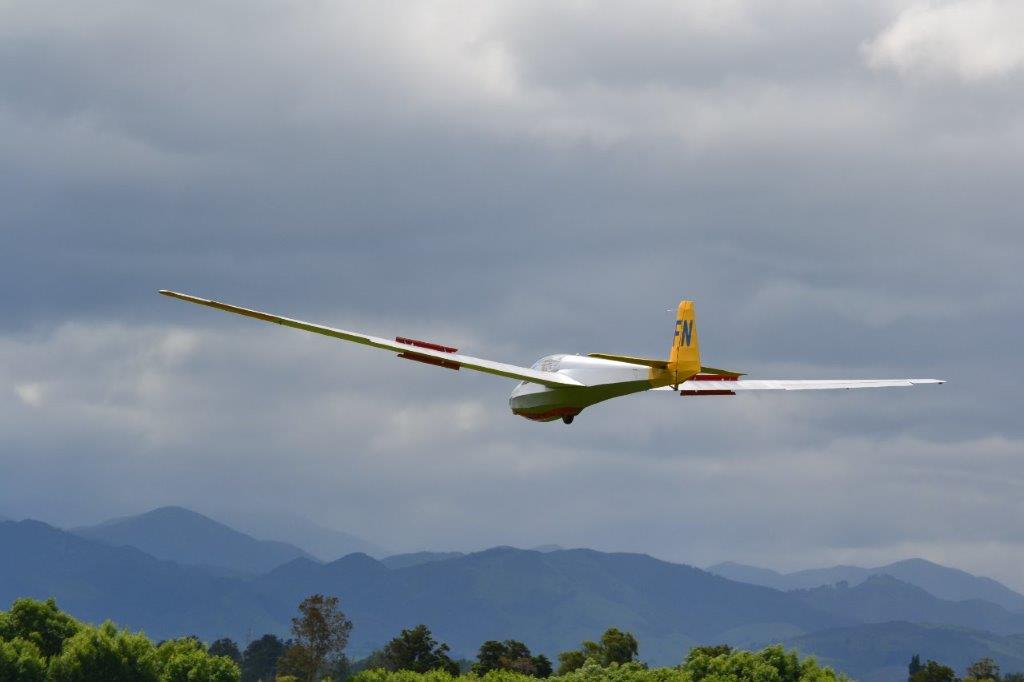 ; On short finals
Back to Stratford today (the 17th). Tim and Will were there again. Jim Finer took a break from his spraying duties to do the towing. Two flights for Will in TE. One of twenty minutes and another of thirty-eight minutes. A couple of flights for Tim in the Discus XC. But the good gliding conditions which earlier so excited them both had moved north. Will flew up to the bush-line but nothing much there or at the York Road Quarry, usually a prime spot. Tim saved his day by accessing the Power Station thermal.
And the 19th to finish off with. Three launches. Two for NN with Les Sharp and Genny Healey from the Piako Club. The first was a circuit height only and the second flight was better as they did thirty minutes from a 2000ft tow. Peter Cook kept in practice with forty-three minutes in TE.
So the gliding drought has now been broken and there are a few fine days ahead of us too.
25 Years Back:
Wednesday flying mooted, Took a long time before mid-week flying became a regular activity. Another break-in to the club house. Some items taken.
Flying at Norfolk Road suggested. Caused some pained discussion. Maybe the beginning of the eventual move to Stratford though German Hill lease aspects possibly gave added impetus.
Petrocorp provided the money for drains for the N/W strip. Too wet to install them.
The Excess indemnity scheme began in October 1992. Would be a tidy sum now but for a committee tendency to raid it to meet exigencies plus other genuine calls on it.
Another raffle underway to cover Blanik IS C of A expenses.
Flying hours picking up after a slow start. to the season. In November,12 hours from 48 flights.
Some things of interest:
The Janus NN is to be trailered down to Omarama by a group keen to try the glider out and themselves too in the famed Omarama gliding environment.
The Youth Glide Website is always full of interesting reading. Those attending the GNZ AGM have been most impressed by the quality of their representatives.
Gliders with electric sustainer engines (or self-launching capabilities) are not too far away.
Its about time this club got itself some more student pilots. A bit short on those are we.
With a bit of luck we may be able to sell the roller. A feature of the German Hill days where it was used to roll out the rough bits and flatten dollops of cow poo.
Dennis Green is now the Club Treasurer, replacing Peter Miller. Otherwise the committee make-up remains the same.
John Tullett now a B-Cat instructor.
Papa Mike.