Something different to look at-
The Mt Cook Ridge
The Dobson Valley
Both photos courtesey of Fraser McDougall flying out of Omarama during the month and thanks too, to Roger Read who sent them to me.
As far as I know there was no flying that I'm aware of but at lleast we can advise that the final payment of the loan to purchase the Eurofox towplane was paid off. The whole thing was well managed and our thanks to the GNZ loan people for their help in this.
Now for a bit of light reIief. In times past, cartoons enlivened the pages of the club newsletters and here is one of them.......
At the intersection of S.H. 3 and Alfred Road we had an excellent roadside sign featuring our Blanik in flight. Bob Struthers had the idea and John Tullett was the artist. This is how club members thought the sign was painted. Mirk Smith the cartoonist.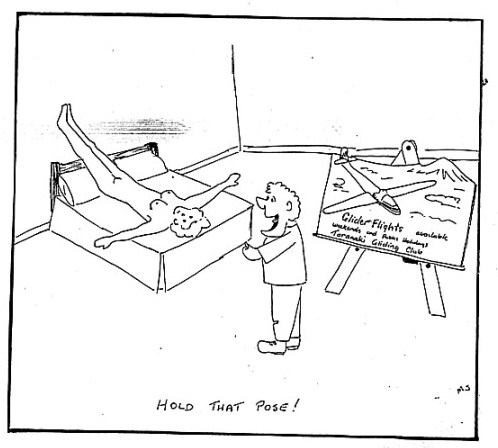 PAPA MIKE