April 30th 2019: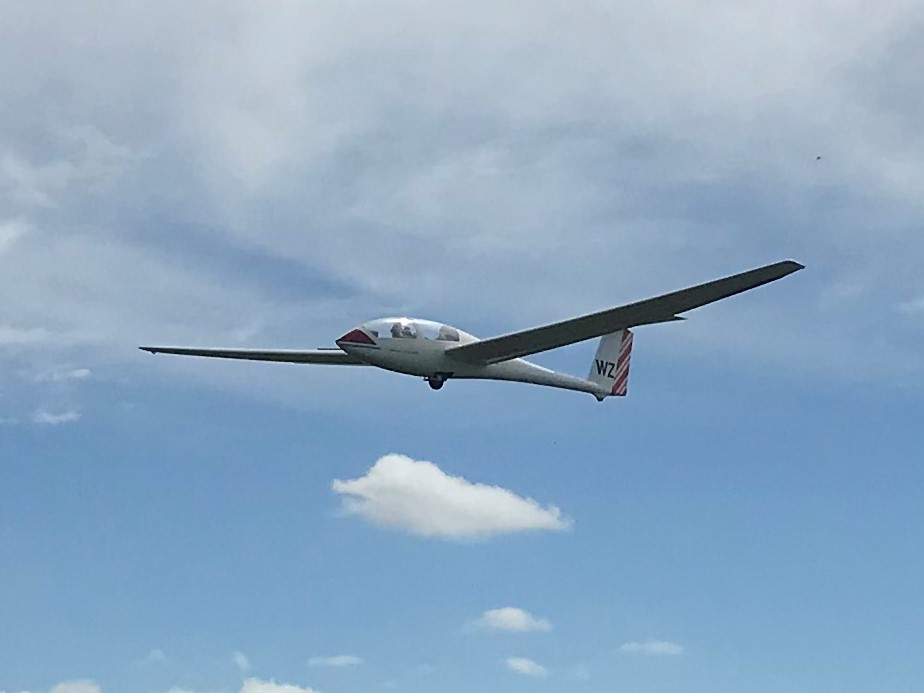 Always a nice photo to look at. So here it is to start this month.
The month began well enough with just over six hours glider time on April the 5th. 50 minutes for Will Hopkirk in the PW5 with two flights. Then 50m for Dennis Green in WZ followed by flights of nearly 90m for Tim and Clinton in the Discus and ASW15 respectively. Seemed to do quite well flying over different areas of countryside. Just over the hour for Glyn Jackson in the Janus and all those flight left hardly anything left for Les Sharp who had to make do with just under the half hour with his ASW20. Perhaps a bit too late in the day. No pupils this day but Jim Finer was toiling at the towing. He was towing again on the 19th. Noticeable that pilots' release heights were from 2000ft up to 2500ft. Discretion obviously the better part of valour that day. The Norfolk duo of Steele and Koch availed themselves of 48m in the Janus NN. Where they or anyone else went I'm not sure. Two flights of 67m total for Peter Cook in his Discus whilst Tim Hardwick-Smith topped the day's figures with a flight of 95m. A quick flight for Dennis Green and John Spence in the Twin then Dennis flew as an 'Observer' with John Tullett in the Janus. Dennis said he was there as ballast but there is surely no weight to that claim !! No further flying for the month. Some heavy rain for New Plymouth focussed peoples' attention on keeping dry.
25 Years Back: More words of advice about care in the circuit with reference to Roger Read's article in the Gliding Kiwi. Varied flying during the month and with an oblique mention of someone flying the Blanik JB over the Ranges - with 'nonchalant ease'. Thirteen training flights for the month. Drained areas on the airfield have settled down well.
50 Years Back: Colin Gould, Harry Smith and Bob Struthers back from Matamata with BCat ratings. Geoff Croy converts to the Olympia off a winch launch at Stratford. A then illegal Car Raffle nets $1600. This would be soon applied to the purchase of a bulldozer.
And one for today, May 5th:
Never thought in 1969 that 50 years later I'd be referring to a Space Rocket launch from the Mahia Peninsula out from Gisborne. The link I'd hoped to post does not want to work. but this one might -
https://www.google.com/search?client=firefox-b-d&ei=WL_OXLLKMNrQrQGP54sw&q=Rocket+Launch+May+5th+NZ+2019&oq=Rocket+Launch+May+5th+NZ+2019&gs_l=psy-ab.12...23941.27118..30900...0.0..0.304.1223.2-4j1......0....1..gws-wiz.......0i71j35i302i39j33i22i29i30.xecnoYGdiXg
And lastly, this weekend had been set down to give flights to a Stratford Scout Group. Was postponed but in light of next weekend's forecast looking dismal today would have been ideal. Ah well..................
Papa Mike.